NBA Playoffs Begin Saturday!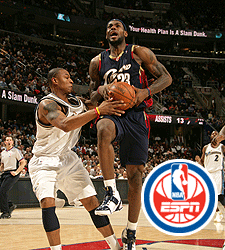 United States
April 18, 2008 10:50pm CST
I'm always especially excited around this time of the year because I have been waiting expectantly for the NBA Playoffs to begin. Going back to the time when I first became a fan(more than 25 years ago), the games have been a tradition for me. The difference is where back in those days we always had a full house to watch the games, now it is more often than not just myself. It doesn't matter though. I will do as I usually do and enjoy the games alone if necessary. How about you? Do you watch the playoffs?
6 responses


• United States
20 Apr 08
The playoffs are on right now. We taped them earlier and the Cavaliers are on, just won the first game 93-86. He has SportCenter now to catch up on the rest. We are taping them again all day tomorrow, but Cleveland won't be on again until Monday. I don't think we have missed the playofsf or March Madness in 30 years. I don't watch them straight through, but I'm around to see what's going on and sit down every now and then when I hear the shouting.


• Philippines
19 Apr 08
i'm a big nba fan. surely, everyone will agree that this is one of the closest play-offs we have seen in recent years. i'm excited as there are a lot of subplots in both conferences and each series is a potential upset in the making. ok, i don't think the hawks can upset the celtics but look elsewhere and you can present a valid point why one lower seeded team can upset the higher seeded one. take it to the bank, the detroit pistons win the nba championship this year!!!

• Philippines
19 Apr 08
I'm an avid fan of basketball, that sport is really BIG here in our country. I would definitely watch it, be updated and see who'll end up on top. I'm rooting for Detroit on East and Phoenix on West, though I am not from the U.S. I will still be watching the game through live broadcasts and here on the net as well..

• United States
19 Apr 08
I'm not really into basketball, but my son and my boyfriend are fans of the Phoenix Suns. In fact, we just went to the store on my way home from work and my boyfriend picked up an NBA shirt for my son that sports the Suns on the front and Nash on the back. Got it for a good price too. It was $31.99 and he got it for only $10. Then when we got home he had me look up the schedule of games on the web and apparently they have decided to watch the playoffs tomorrow against San Antonio. I'm glad I'll be at work.