Have you ever experienced wearing your clothes wrong side up or backside front?

Philippines
April 22, 2008 8:26am CST
Okay, I'm not sure if I'm using the right term, so correct me if I'm wrong. I know I've experienced this at least once in my life, it doesn't seem to happen always, but today is just too much. Not my personal experience though. My sister this afternoon accidentally wore her jogging pants backside front, and after showing it to me, we laughed about it. After she showered, I noticed her shirt backside front too, though her pants isn't anymore. I pointed it out to her. I thought she was a bit spaced out because she has done it twice already, but then this evening I saw my niece in a backside front shirt too. I don't know, 3 times in one day? Am I missing a trend or something? Share your experiences. Was it embarrasing or funny?
8 responses

• Philippines
28 Apr 08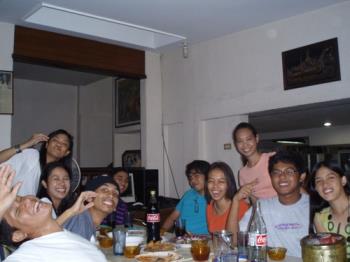 wearing a wrong side clothes in 3 or more times in a day, i haven't experience that. but i experience wearing my clothes inside out, in a very crowded place. hehehe, that when we went to church. i feel embarrassed.


• Philippines
29 Apr 08
Oh, your photo is in the wrong discussion. hehe. It belongs to another discussion of mine which is about irrelevant pictures. hehehe.

It is embarrassing to be seen in public with a shirt that's worn on the wrong side. I hope it wasn't that obvious. hehe. How did you handle the situation?

• United States
28 Apr 08
I have done this a few times with some of my under shirts, since they are underneath it is not that big of a deal since I am the only one who knows. It is quite uncomfortable during the day and when I get home I can see why, when I chnage clothes and see the tag on the outside of the shirt.

• Kuwait
22 Apr 08
Yeah it happens to me also,,once i was in a hurry and i just pick up one of my favorite blouses at home and never noticed that it is wrong. i wear it in the wrong side(back at the front and vice versa. :-)

• Philippines
22 Apr 08
i remember we had this choral speech in class and our costume was to wear a plain black shirt. i didn't have one so what i did is that i just completely reversed the shirt so that the print won't be noticed. and voila! a plain black shirt. so i did it on purpose.

• Philippines
23 Apr 08
Nice idea! Who's idea was that? Was it yours? That was so original.

hehe. I always had this problem before when we have to have a plain shirt for a group presentation and I don't have one, I always have trouble trying to borrow from friends. Thank you for sharing your idea.

• Guangzhou, China
22 Apr 08
Yes, I experienced this a few times in the past. Sometimes I am really careless. When I realized it, I felt so embarrassed and I especially felt bad as I couldn't change it right in public. I had to do it in a bathroom. So during the time, I felt so embarrassed. I love China




• Philippines
23 Apr 08
It is embarrassing to be seen in public with a shirt on the wrong side. But with family or close friends, it is downright funny. It happened to me a few times in the past too. But I do notice when I have it backside front because it feels awkward, like the shirt is strangling me. hehe.


• China
22 Apr 08
yeah, finally i am the first one to answer my friends discussion..i am so happy about that

when i was a child,i always wear my clothes in backside front...we (child)all did this,so we don't laugh each other or feel any embarrasing or funny.so if you wear the right side,i think that would be a issue....


• United States
22 Apr 08
The only time that ever happens to me is if i'm really tired. I wound up noticing, but one time my husband saw and corrected me. It was quite embarrassing. This has happened a couple of times with my children, they thought it was quite funny. I atleast caught it before they went to school, because then it could turn into something embarrassing.