What are your biggest rewards in life?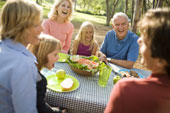 United States
April 29, 2008 7:09pm CST
Well I am a mother of 5 wonderful children and 2 beautiful grandsons, married to a wonderful man for 20 years. I thought my life was full until I began working with mentally challenged people 2 years ago. I took the position thinking wow I can really help these guys but heck wouldn't you know they have given me more than I could ever give them. The money bites it doesn't pay what it should but still I stay, why? The answer is they have filled a void in my life that I never knew I had. The smiles and the thank you's all the time they really appreciate every little thing you do for them. They are our extended family all my children treat all the individuals as if they are related and maybe this is why it has filled my life so much. I realized I did a great job raising my children to accept and to love with ones heart and not with our first impression. My children are 7,16,20,22,25, grandkids are 2,4. "You have not lived for the day until you do something for someone who can not pay you back"! Your biggest reward is what?
4 responses

•
30 Apr 08
Oh wow, I love that quote at the end, it's beautiful. 5 kids? *wibble* lol, congrats on your happiness though! I've been trying to find the right 'career' for a while now. Academia calls, teachings keeps scratching at my back, doing teaching assistant work always sounds so rewarding... and then there's working with 'disadvantaged' teens (though I don't think I'm politically correct enough to get into that currently), of course I also want to work abroad teaching English *sigh* Oh well... it'll all work out in the end.

• China
18 Feb 13
Glad to see what you post,I can imagine your smile,must amiable and sweet. My greatest reward is every hurts I ever suffered in the past. People who hurted me,make me strong,independent.let me understand I should cherish every second in my life,to love people I ever meet,to do some help for people who needs... Life is beautiful even there always be some frustration,desperation and sore.But we always survive.In the end,we will thank for all of the bad or good things in our life,they make our life perfect.

• Philippines
2 May 08
Well, my biggest reward in life is to see my loved ones happy.. and that simply makes me feel such joy and happiness..

• United States
30 Apr 08
my children are my biggest rewards and living to beable to raise them they are my world the best 3 things that have ever happened to me and living indepentalt