Can the Spurs Do It Again?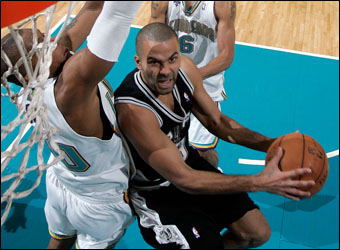 United States
May 5, 2008 11:34am CST
As some of you probably know by now, I am an avid basketball fan-the San Antonio Spurs being my favorite team. I have been keeping up with all of the playoff games that I can via network TV, and I am very excited at the prospect that the Spurs have a good chance to win another championship this year. I also see the Los Angeles Lakers(second favorite team), as having a good chance. So, my question to you is: Which team do you think has the better chance of winning it all, Spurs or Lakers?
3 responses

• United States
6 May 08
I am thinking the Lakers since they have had such positive reviews. I am not a true basketball fan since our professional team left St. Louis several years ago. Lost interest at that point and could never gather the time or interest to watch games after this happened. Good luck to the Spurs.

• United States
5 May 08
I expect the Spurs to go to the finals. I'm aware they loss to New Orleans but it's going to be interesting and probably them against the Lakers. No matter how much the hype is on the Lakers, you can't forget that San Antonio is still the team to beat. If the Hornets win the series, it would be considered a major upset only in the sense that the Hornets aren't expected to go all the way and San Antonio is a much more experienced team in the playoffs.

• Philippines
5 May 08
As of today, May 6, the Hornets are ahead 1-0. But I believe that the Spurs can rebound from their loss and beat the New Orleans Hornets. It is also my favorite team in the NBA and I am hoping they could come up with solid games and reach the championship game. Happy watching!