Another Threat to Out Troops In Iraq!

United States
May 5, 2008 11:32pm CST
As if our men and women in Iraq didn't have enough to worry about, here is a deadly new threat that has resulted in the death of several of our troops: http://www.nytimes.com/2008/05/04/world/middleeast/04electrocute.html?_r=1&hp&oref=slogin Tragically, at least a dozen American military personnel have been electrocuted in Iraq, according to the Pentagon and Congressional investigators. Here are some excerpts from the article linked above: "While several deaths have been attributed to inadvertent contact with power lines under battlefield conditions, the Army bulletin said that five deaths over the preceding year had apparently been caused by faulty grounding, and the circumstances of others have not been fully explained by the Army. Many more soldiers have been injured by shocks, Pentagon officials and soldiers say." "American electricians who worked for KBR, the Houston-based defense contractor that is responsible for maintaining American bases in Iraq and Afghanistan, said they repeatedly warned company managers and military officials about unsafe electrical work, which was often performed by poorly trained Iraqis and Afghans paid just a few dollars a day." We all know our troops are risking their lives when they're deployed to places like Iraq and Afghanistan but shouldn't they at least feel safe and secure when they take a shower? This is truly disgraceful! Annie
4 responses

• Turkmenistan
6 May 08
Things like this just make me sick and it further proves that America does not care enough for it's military. If I had family or friends over there, I promise you, I would be one of the enraged people alive.

• United States
6 May 08
You're so right, Rozie! I have two nephews in Afghanistan and once possibly going to Iraq soon and I never had a clue I had to be just as worried about them when they're on base as when they're out in the battlefield. It's another case of our government giving a contract to a Haliburton subsidiary who in turn contracts the work out to untrained locals for a dollar a day. Here in the states, doesn't someone have to be certified to do electrical work? I know I wouldn't let anyone to any wiring in my house without the proper training and credentials! Annie

• United States
6 May 08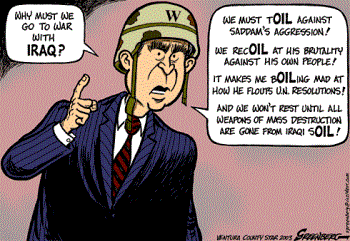 There is a big problem with getting the troops out of Iraq. Because of the war, a huge mess was created. This mess was created by the US, this is why they cannot leave the country in a state of civil war. It is their duty and their responsibility to take care of the country and to help get it back on its feet. I personally feel sorry for the soldiers and would love to have them out, but in the state of affairs, its just not possible. This war was started just to gain oil, our president really (excuse my language, but I believe it is appropriate for this case) f***ed up by bringing our troops in Iraq in the first place. Now because of this dumb*** we have to have troops fighting for something they do not understand or believe in, resulting in brain trauma for many of them even once they get home. The damage done here is horribly big on the US troops and on the civilians in Iraq, the US needs to fix things up in Iraq all while slowly withdrawing troops. That story is truly disgraceful, the men and women fighting down there deserve much better.

• United States
6 May 08
Great response. I must say, though, I'm starting to rethink what our responsibility really is to the Iraqis. I know it wasn't their fault we went in there and destroyed their country but it seems now like they're not doing their fair share of helping themselves and they're certainly not doing their fair share of paying us back from some of their billions in oil revenues. I think it was the Iraqi Foreign Minister that was interviewed on TV a few weeks ago and was asked about paying for their reconstruction out of their oil money and he said, and I'm paraphrasing here, "It's the Iraqi people's money and it has to be their decision". Hello!! Isn't it the American people's money that's being used to rebuild their country while ours is falling apart and WE don't have a say in it! Hearing this story about our troops actually dying while taking a shower is the last straw for me! It's totally beyond my comprehension. Annie

• United States
8 May 08
Annie, I am utterly disgusted that that is going on. I could say the words that are in my head but they would be deleted here on MyLot. When I read your post I had to reread it 2 times. I wish you could have seen the shock on my face and feel the pain in my heart that these men, who should not be there in the first place are now facing this. Lil bush does not leave soon enough for me, He is after all Commander in Chief of the Military last I checked, you would think if he was sending them over there they could at least shower with out wondering if they were next to die. Great post and thank you. Ainge

• United States
9 May 08
Isn't it horrifying? I know exactly what you mean about the words in your head that would be deleted because those were most likely the words I was saying when I heard about this story on TV last night. My 91 year old mom was saying her own share of unprintable words! When the very first incident happened there should have been something done that very day! It never should have happened in the first place, not even one time. That's the problem, our country is sub-contracting all these different jobs, then the ones who get the contract subcontract it to someone else and it ends up with untrained, unqualified people doing dangerous work such as electrical wiring. It's clear there hasn't been any publicity over this, or very, VERY little, possibly buried in page 20 in the newspaper, or I'm sure there would have been many people as p1ssed off as you and I are something would have been done about it a long time ago. Thanks for a great response. Annie

• United States
7 May 08
This is just wrong. I hope someone gets called on the carpet about this for not doing their job. Though it's not going to help the soldiers who have already been victims, unfortunately.