Mother's Day is coming.......

United States
May 6, 2008 8:35am CST
I just ordered a nice azalea plant for my mother in law who lives across the country from us. Im going to give my mom and grandma plants as well. I have come to realize that cut flowers only last so long, but with certain plants, they can come back year after if planted. I am a mother as well, and while my kids are 3 and 1, their dad has to take care of that stuff for them. He recently got me a Cricut CuttleBug (if you are into scrapping or something similiar, you know what im talking about) and I told him that it would be my mothers day gift. So,what are you doing for the special lady in your life, whether it be your mom,grandmother, or anyone else that you consider to be "mother" to you??
4 responses

• United States
6 May 08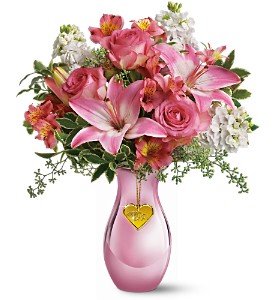 Well for mother's day I ordered her these gorgeous flowers. I'm going to attach a picture of them. But they are so beautiful and I hope that she likes them a lot. I fell in love when I saw them and I just think they are the most gorgeous think I have ever seen.

• United States
6 May 08
wow! those are really pretty! I bet she will loooove them!

• United States
6 May 08
Thanks and yeah I am sure that she will love them.

• United States
6 May 08
I ordered my mom a claddagh ring from Ireland with a conneamra marble stone in it. The only place connemara marble is found is in Ireland. I have an aunt who I also consider to be like a mother that I get something for as she does not have kids of her own I am going to get her a gift card to her favorite store.

• United States
6 May 08
wow thats really neat! I bet she will love that ring =] I have an uncle who's daughter passed away at age 2 and he has no more kids, so we always do a little something for him for Fathers Day, i think its nice that you are doing something for your aunt!

• United States
6 May 08
My mother said that she wants a george forman grill for mothers day, so that is what she is getting. My sisters and I will buy it together and then we are having a hot tub party for my mom to celebrate mothers day. My mother in law will get a nice hanging plant from us and we are also having here over for a cookout.

• United States
6 May 08
Ohh, i love my Foreman!! It makes cooking things so easy! SOunds like you guys are going to have a great mothers day!

• United States
6 May 08
Hey, that was nice of you to get your mother-in-law something considering...

I am sending a mother's day card to my grandma tomorrow. As for my mom, I have a card for her, and a ten dollar gift certificate to Bath and Body Works. I didn't have any money to spend really, so I cashed in points on one of my sites, and got the gift certificate for free. She likes it better when I don't spend money on her. I kind of don't have a choice anymore! LOL