Volcano effect on Coffee

United States
May 8, 2008 6:44am CST
The volcano that erupted about a week ago is having a devastating effect on it's local environment. Thus far, a large chunk of the Chilean countryside and Buenos Aires. I cannot, however, get a clear picture of just how bad this bad thing is. * Do you think that the volcano that erupted in Chile will effect whole of South America? I know it will have effect on the exportation of fresh fruit and veg from Chile itself, the people are fleeing, the countryside is under ash. But what about the coffee growers in Columbia, Amazon rain forest, so on? This can have a dire effect on the planetary food crisis that is already close to the Niagara Falls!
1 response

• China
8 May 08
Hi,this is the first time that I have heard about the volcano,.Actually there are several volcanos in my country, but they are all far away. And now here are the summer,the veg is still raw.~~ but I wish that there were no wound or hurts.And the volcano won't influence the veg and coffee, will it?

• United States
10 May 08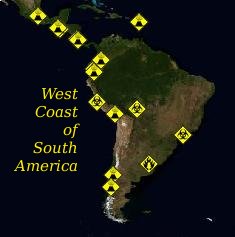 Oh Lordy you are asking the very wrong person! The Vulcanologists (spelling stinks

) say it's strictly up to the volcano, although there are nine erupting in the western coast of South America right now. * I'm Autistic, so I spent the formative years where I should have been learning geography learning more basic life skills such as talking then reading & writing where the rest of my contemporaries were learning civics.