Psychadelic Beans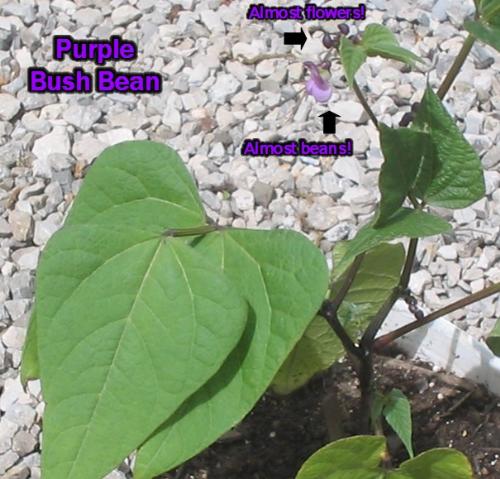 United States
May 21, 2008 11:46am CST
Since I don't have room to plant here and I'm doing most everything in containers, I planted the bush variety for beans to keep from having to find something for them to climb. I bought the regular 'garden variety' (pun intended) green beans and also found these neat purple beans too. The stalk is a bit more of a purple color than the green bean and the tiny bean-looking things that sprouted are a dark eggplant color, and look at the pretty purple flowers! The bean itself is supposed to be quite long and a pretty purple, but will cook up to be green. Isn't that neat? Here's a picture I took this morning. If you've been following my other discussions in this forum, this is the one that is growing in the KFC chicken bucket. Have you ever planted any vegetables that were a bit odd or outside of the norm? Did they taste the same? Better?
6 responses

• United States
21 May 08
I appears to be hiacynth bean vines. I plant these every year just because they are so pretty and hummingbirds love them. I have never tried to eat the beans, but they say you can. They are very easy to grow and like lots of sun, but do not transplant well. The blooms and bean pods last well into October or even November until the frost. You can get lots of new bean seeds from the pods for next year. Just open the pods up, harvest the beans and let them dry out until they are black with white around the outer edge. Then store them in a dry place because if they get moisture they will mold and be useless.

• United States
21 May 08
No, this is from a packet of vegetable seeds (beans) I bought to grow for eating; they are not an ornamental plant (although it does have a pretty flower). See the picture of the seed packet above.


• United States
21 May 08
Yes, I love to plant something strange or unusual and see what happens.. but of course my latest ideas of strange were eggplant and beets! They came out ok, but I was the only one to eat any eggl=plant and even I didn't eat any beets. But they were fun to watch grow anyway!

• United States
21 May 08
P.S. pretty plant! a nice variation from the regular white blossom! I may have to look for some of those!

• United States
21 May 08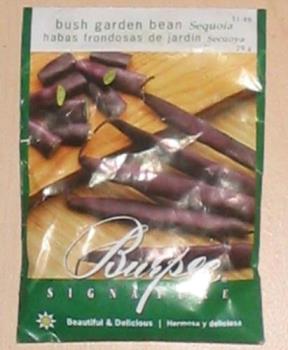 Oh, do! They are fun to watch growing. Here is a picture of the seed packet. On the reverse it says: Delicious and beautiful 5-5" purple podded Romano-type beans cook to bright green. Tolerates cool weather. Bush-type plants.

• United States
21 May 08
Thanks! I'm going to look for those.. [5-5, that's my magic number, or should be, as I was born on 5/5/55 and am forever waking up at 5:55.. and all sorts of things like that.. turned 50 on 5/5/05, that sort of thing too] - but back to the topic at hand.. those are some interesting looking beans! Psychadelic is a good word for them!


• United States
21 May 08
It looks like Dolichos lablab or Lablab purpurea depending on which book you are reading. It usually has a purplish red stem. Depending on what species the underside is sometimes reddish purple. Dolichos species should be cooked. Then drain all of the water and replace with new water and then they are safe to eat. It is sometimes called Hyacinth bean or Purple Hyacinth bean. And I believe that Thomas Jefferson grew them at Monticello. However the Dolichos seed pod looks like a purple snow pea. Good Luck

• United States
22 May 08
Darned if I know. The seed packet says: bush garden bean 'Sequoia' There's a better shot of the seed packet I have here on the Burpee website: http://www.burpee.com/product/vegetables/beans/purple+bush/bush+bean+sequoia+-+(1+packet).do

• United States
22 May 08
I left this out. When the water is changed cook it some more. LOL Very important. I saw the pack. They look great. Its always nice to grow a little bit of variety. It will definitely add some beauty to the garden.

• United States
21 May 08
Where did you find this variety? I love how the plant looks it is very pretty. Something I want to find.

• United States
21 May 08
They were Burpee seeds that I picked up locally here somewhere, either WalMart or Lowes perhaps. I have a picture of the seed packet above.

• Canada
25 May 08
Have you ever tried "tomatillo's" or "ground cherries?" Best salsa in the world from tomatillo's...and they look so neat with their paper-like husks! I also love my "loofa" vines (plants)...I dry them & include them in baskets of toiletries (homemade) for Xmas/Bday Gifts! My favourite reading is Seed Catalogues..small world, but it's GROWING!

• United States
25 May 08
No, I've never done tomatillos and I don't have room for anything more this year, but I'll definitely keep that in mind for another time. Home grown loofas? For real? Now that would be cool! I'm off to do some searching for info about that (and going to be paid for the search too - see my profile!).

• United States
21 May 08
Oh that is really neat! I don't know much about planting or growing even the mainstream things...lol.