how to make a good smoothie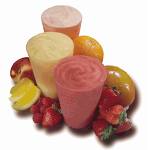 United States
May 21, 2008 6:29pm CST
ok i took my 8 year old to the doctors today and she weighs 100 pounds, well the doctor feels she is a little overweight, ok so he says i could make her a smoothie, but get this with out yogart and/ or milk. to be honest ive never heard of smothie with out those ingredents. may some on here knows something i dont. any ideas on making a good smoothie. thanks in advance
4 responses

• United States
22 May 08
I never heard of that before, when I was younger I was overweight to, not by a few pounds but by 30 or more pounds. Losing weight is more then just eating smoothies. Its a life style, eating healthier and moving more will help lose the baby fat. When you cook use low fat milk or skim. Try not to eat lots of fast food. and if she drinks soft drinks try to cut down to one a day or no soft drinks at all. Sorry if that wasn't any help....

• United States
22 May 08
no it was very helpful.i have swicthed alot of the things that she eats, and she has has a good taste for veggis and fruits, but obesity runs on her dad side and im worried bcuz she is just a little heavy and she is developing on top too, so im having a meltdown my little girl is grown up lol, but your right i have to show her how to stick with the healthy food. thanks for responding

• United States
21 May 08
The only thing that I can think of are the protein shake type of thing. I drink the powder mix made by curves and I will use ice and water instead of milk, then mix my favorite fruit. I'm not sure if this is what he ment but it's very yummy! Perhaps you should just put a phone call into him and see if he can be clearer in what he means by smoothie. Good luck!

• United States
21 May 08
protein shakes i dunno, only cuz shes 8 years old and does drinks are not suitable for kids, but i am going to call him in the morning, because im breaking my head over this smoothie thing.thanks for responding


• United States
21 May 08
yea thats what i said she needs her calcuim, im gona try it with skim, my brother said try it with fat free or light yogart. thanks for responding

• United States
22 May 08
I buy fruit drinks called "Smoothies" in the fruit section of the grocery store. They are just pureed fruit and they are sooooooo good! Kind of expensive though. Maybe you could make your own by putting fruit in the blender. I've been wanting to try that instead of buying them. The brand names of the ones I buy are called "Naked Fruit Juice Smoothies", which are my favorite, and "Bolthouse Farms" makes the other one.