I want a fresh salad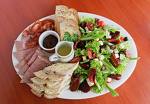 Indonesia
10 responses

• Indonesia
23 May 08
well, is it better to eat salad in the morning? i used to eat it for my breakfast, after fruit + yoghurt. in the night, just take fruit and other light meal....not nasi campur, of course


• Indonesia
24 May 08
I want anything else than nasi campur LOL indeed. Thank yo sutanhartono. You are the best!


•
5 Jun 08
Hi Diane, I want to share my very simple salad. Do you like corn chips? If you do you will like this recipe of mine. You need 5 cherry tomatoes or one big one, cucumber, and cheese. Chop your tomatoes and cucumber in dice. Crush some corn chips and shred some cheese. Mix them in a bowl and you will have a superb snack.

• Indonesia
5 Jun 08
Sound great Jemina! i will try your recipe. Thank's!

You got my rate :D

• Indonesia
5 Jun 08
I also love salad with fresh veggies, tomato, cucmbers, mushroom in it with slice of egg and potatoes, threw in a shrimp or two, a sweet corn and with Thousand island mayonaisse at the top. Yum Yum . The imagination just make me hungry, I need to eat right now.


• Indonesia
14 Jun 08
Yum yum... sounds great the salad that you describe! lolI am hungry just to read this post.



• Indonesia
14 Jun 08
Oh i forgot! i will return to one of your discussion . See you there.

• Malaysia
31 May 08
Whenever I crave for salad I definitely will pay a visit to the nearby pizza hut. I like the salad served there. I always pick my favorite sorts of vegetable until the bowl could hardly accommodate, of course with thousand island dressing added to it. It's really delicious.

• Indonesia
31 May 08
Hi Ikbooi, I love the thousand island I think who ever invented it must be genius!!! Thank you for visit my discussion. I'll you in yours later



• Indonesia
29 May 08
Hi clemere! good to see you in my discussion! sawi vegetable better with noodle bos!

wenak! (yummy)

• Indonesia
26 May 08
I like salad at the Pizza Hut Restaurant. We can choose what we like to eat. Salad better eat in fresh. If we take it and bring home, eat at home, this salad will be watering.

• Indonesia
29 May 08
Hi vet beginner! thanks for dropping by. What do you choose for your salad at the Pizza hut? i always choose, lettuce, sweet corn, carrots, many more i can't remember.


• Indonesia
29 May 08
Pizza Hut is the best! they always have fresh salad. We can even choose what we like to eat. Thank you for responding my discussion. I will visit your later. See you there.

• Indonesia
24 May 08
Salad its ok, i like salad too but not that bad as you. Which one you most like inside it?

• Indonesia
26 May 08
Hi ezzy_poenya! glad to see you in one of my discussion. I love onion, green leaves, orange, eggs cucumber, and many more.

• United States
23 May 08
Yum! I hope you get your wish.. somehow.. blessings!

• Indonesia
25 May 08
Thank you flowerchilde. You are the best. God bless you too! x0x0 dian

• Trinidad And Tobago
23 May 08
Hey there, Why can't you have some fresh salad tonight then? I don't like dressings or cheese on my salad though I only sprinkle garlic salt and coat the vegetables in it!

• Indonesia
24 May 08
Thank's roxanne271! i will dropping at one of your discussion too