Has anyone outside the Philly area ever had a Panzarotti or pizza turnover?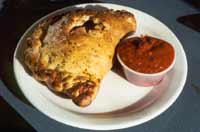 Gloucester City, New Jersey
May 31, 2008 8:42pm CST
Boy, I'll tell you. You live away for 19 years and all sorts of foods are popular that you never heard of. When I moved back to South Jersey in 1996, I was suddenly made aware of a variety of foods, apparently native to our area, yet I had never heard of them. One was the chicken cheesesteak sandwich. Ok - cheesesteak - yeah. A Philly standard. But CHICKEN cheesesteak?????? I have never seen a chicken steak except for chicken-fried BEEF steak! No clue had I!Then there was Taylor Pork Roll. WTF is that? My mother was born in this town 91+ years ago and she's never eaten pork roll and didn't know what it was either, but everyone tells me it's a South Jersey tradition??? I still haven't tried it. Then there were the sub/pizza shop items I wasn't familiar with - pepperoni rolls (popular where I used to work), strombolis (I'd heard of a zamboni, but a stromboli???) and Panzarottis, aka pizza turnovers. Well, let me tell you - I found a tiny slice of heaven in that last one. OK - a VERY LARGE slice of heaven. You see, the first pizza turnover I had was actually a medium pizza dough, folded in half over the sauce and cheese, the edges sealed, and the entire thing deep fried!!! OMG - heart attack heaven!!! No - I don't eat them all the time, or I probably wouldn't be able to tell you about them by now. But, they are wonderful! You can add toppings to them, but I haven't known of anyone who did. They also have a panzarotti called Tarantino's, but I don't like them. They're small and very crunchy and I prefer the softer dough. You can also get them baked, if you want to avoid the cardiac fast track. But, if you like pizza and you love the sauce and cheese, try one of these if you're ever in this area (Philadelphia metro). Seriously!
1 response

• United States
1 Jun 08
I have had a Taylor pork roll before and I live in Missouri. LOL There is a pizza place in St. Louis that serves the Taylor ham on a sandwich. It is kind of like Spam only about 10 times better. Try it sometime. Warning though it is really salty. I am with oneandonemakessix, what you are referring to sound like a deep fried calzone.

• Gloucester City, New Jersey
1 Jun 08
Really salty? Right up my alley - I'll have to try one. They sell a lot of them in breakfast sandwiches around here. I think I can handle that. In Missouri, huh? I'll have to ask my friend in Mexico if she gets Taylor ham there. I do like Spam (ok - I don't CRAVE Spam, but it fries nicely to go with eggs, etc.), so maybe I would like Taylor.