Frisbee - Have you shared this with your kids or grandkids yet?

United States
June 4, 2008 4:38am CST
Abaker named William Russel Frisbie, of Warren, Connecticut, and later of Bridgeport, came up with a clever marketing idea back in the 1870s. He put the family name in relief on the bottom of the light tin pans in which his company's homemade pies were sold. The pans were reusable, but every time a housewife started to bake a pie in one, she would see the name Frisbie and, it was hoped, think, "How much easier to buy one". Eventually Mr. Frisbie's pies were sold throughout much of Connecticut, including New Haven. There, sometime in the 1940s, Yale students began sailing the pie tins through the air and catching them. A decade later, out in California, a flying-saucer enthusiast named Walter Frederick Morrison designed a saucer-like disk for playing catch. It was produced by a company named Wham-O. On a promotional tour of college campuses, the president of Wham-O encountered the pie-plate-tossing craze at Yale. And so the flying saucer from California was renamed after the pie plate from Connecticut. Of course the name was changed from Frisbie to Frisbee to avoid any legal problems. The girls love playing Frisbee!!! They really just got into it this spring. A couple time last year, two other families and us would go up to the elementary school and play on the big field. We would make it more interesting by having 3 - 4 frisbees going at one time. It was a lot of fun.
4 responses

• United States
5 Jun 08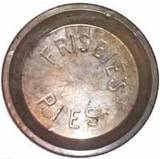 We would play with a frisbee while I was growing up; specially, when I was a teenager. My oldest daughter enjoyed playing, but my youngest didn't like to play. I think its good exercise.

• United States
4 Jun 08
I used to love to play frisbee when I wa younger. We played last year with my daughter. We didn't have enough room to actually throw it to one another right at the time. I would love to have three or four of them going at one time also so you do not have to stand around and wait for it to be throwed back to you.

• India
4 Jun 08
I hear abt this after a long time..it brings back the sweet and fond memories of chilhood..when we used to go for family picnics to beaches we used to love playing frisbee with dad and mom...we used to look forward for the weekends..we used to dive and catch it...good old days...when my daughter grows up we will play with her...have a grt day.

• United States
4 Jun 08
I so remember taking the kids to the park and throwing a frisbee around. In this apartment complex we used the live in the kids (much younger then) would try to race after it and grab it before an adult could get it. I remember someone having a very large one the was more of a flat donut. When they threw that it would go for a long ways! I can't remember what it was called but it was cool! Thanks for the memory. Have a super day!