BBQ in Mexico surprise It was a .....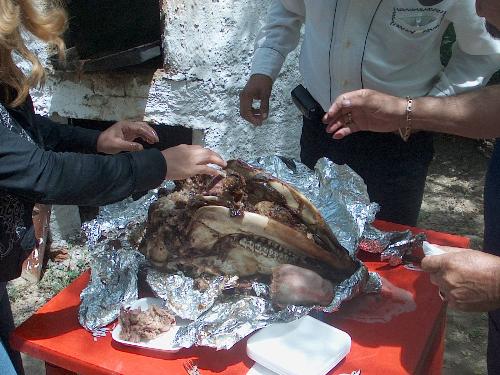 United States
June 5, 2008 11:09am CST
I was invited to a ranch in Mexico for some BBQ it was cooked in one of those adobe ovens that has a door opening which they cover while cooking with mesquite! I didn't know what it was. after a few bbes they announced it was ready and went over to see they slid it out like a pizza and it was a pigs head. LOL! Iwas kinda blown away as I had never seen one. I'm attaching a pic this is my first try hope you'll be able to see it. I ate the cheek area like a buritto with some cheese and salsa and it was great. Didn't try any other part but they ate it all! Have you ever seen this before or tried it? Let me know thanks!!! tdemex

3 responses

• United States
5 Jun 08
I have never tried that one, but I'm a foodie, so it's as good as done! :) That sound really delicious, too! So thanks for sharing it with me! :) Here's a treat for BBQ lovers-- Good luck!:) http://www.hellmanns.com/promotions/isorf/isorf_main.aspx

• United States
5 Jun 08
It was great, onthe burrito we usually drip fresh squeezed lime juice and they fine chop cilantro and onion mix ti together and sprinkle that over the burrito before folding up the tortilla. That's the way they do it on just about everything. At first it was a little strange but I got used to it and now do it also! Thanks for the response!


• United States
5 Jun 08
when I was younger in states, I used to do alot of whole pigs and at that time we just threw the head out! LOL! they were usually smaller suckling pigs, although I did one at a festival where I buried it in the ground and it was 220lbs. and that was great. But I wasn't ready for this pighead it was probably 30 pounds when they put it in! Thanks! Terry

• United States
6 Jun 08
Sounds interesting and if I was starving and had not eaten for a few days I would try it. Sorry I am not a huge meat eater and I just don't know if I could do it. All those years of living on a farm and having pigs (YUCK!!) I just don't eat a lot of pork.