Do people at your church wear hats?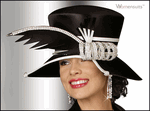 United States
5 responses

•
16 Jun 08
Ladies at our Church do wear hats but not hat often. I dont think there is anything wrong with wearing hats in Church as I don't see how it could make someone sin.


• United States
9 Jun 08
Our church doesn't really have a dress code. Mostly it's a casual dress for everyone, although there aren't usually any hats.

• United States
19 Jun 08
There are a few ladies at the church my family and I go to that wear hats. We don't have a dress code at our church. People just wear what they feel comfortable in. I personally don't like hats but for those who want to wear them that is fine. My husband likes hats and would love it if I wore one LOL but he just has to be disappointed Ha! Ha!

• United States
18 Jun 08
my church has the belief of "come as you are" meaning if you are in jeans and a tee shirt that is perfectly fine. I sometimes wear a cute little hat to go with my outfit, but not as a religion code or anything.

• India
17 Jun 08
Generally I wear jeans, and a t-shirt. Ladies also wear jeans. But elderly people come with coat and trouser and tie. For elderly ladies it is saree. We never wear hat inside the church. We think it is not proper because of our culture.