What is DURIAN? Do you like it?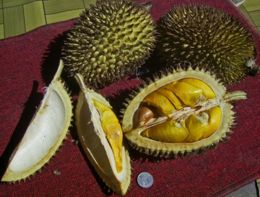 Malaysia
June 14, 2008 2:23pm CST
Durian is widely known and revered in South East Asia as the "King of Fruits".



'Duri' in Malay means 'thorn', 'durian' means 'fruit with thorns'. The fruit is distinctive for its larger size,unique odour,and formidable thorn-covered husk. Its shape ranges from adlong to round, the color of its husk green to brown., and its flesh pale-yellow to red, depending on the species. The edible flesh emits a distinctive odour,strong, penetrating even the husk is intact. Do you like it?
3 responses

• United States
15 Jun 08
I responded to a discussion yesterday or early this morning about durian. I had no clue what it is either. I had to ask about it but I am not sure if I got a response to it or not yet. I heard it was a fruit. What kind of fruit is it like? Is it like an apple, pear, orange, cantaloupe, watermelon, strawberry, cherry or grape? Is it like cumcuats or kiwi or pineapple. I just cannot picture what kind of fruit this is. I am going to have to look it up.

• Malaysia
15 Jun 08
Hie Stephcjh and Curious888, Since yesterday I was curious since Curious talked about favorite fruit topic and it seem it comes in purple color too. WOW...can't imagine how it will taste like! I did some exploration and I came across another blog of a Malaysian enthusiast & I got his permission to put up the link , check out in my web page at Mylot. I have yet to come across anyone who have tasted it :) Cheers and happy posting!

• Malaysia
16 Jun 08
Hello curious888, Oh, I am a durian lover! I love love and love to eat durian very much. Every time I see people selling durians at the roadside, I will definitely stop my car and buy. Mind you, I can wallop three, four durians at one time! Even if you ask me to eat durian for the whole day, I am willing to do so *laughs*

• United States
14 Jun 08
I love durian! It is a bit fibrous for me, so I usually suck all of the flavoring out of the pulp and spit out the fibers. Probably not the way to eat it, but it's difficult for me to choke down the pulp. Everyone goes on about how much it stinks, but I've never had one that was truly gross smelling. They smell a bit like overripe fruit and car tires to me.

I love the statistics on how many deaths are caused by falling durian every year. I can only imagine how painful it'd be if the pokey, heavy suckers landed on you and you survived!