Do you follow Ahimsa or nonviolence in your life?

India
3 responses

• India
15 Jun 08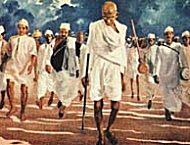 Yes I do follow Ahimsa to some extent but at times i do lose my control. We are very fortunate to have Mahatma Gandhi in our country. I am a great fan of him, what about you?

• India
15 Jun 08
Have you read the book of Mahatma Gandhi, My Experience with Truth?

• India
19 Jul 08
Well..thinking practically...its hard to follow non-violence in our lives ...but what we can do is that give it the number one priority and then...take other measures....i think that is all we can do in todays world....

• United States
16 Jun 08
I try not to start anything negative, but if someone else starts something, I try to put her or him in her or his place fast. If a person does not stand up for him or herself where I live, s/he is thought to be weak. Like the weakest chicken in a henhouse, people run over and harass the person until he or she can't take it anymore. Sometimes someone will stand up for you, but when that person is gone, the others harass you even more.