Memories of a Farm Boy (was it really a Dirty Job?)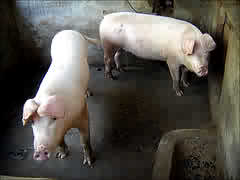 Canada
June 18, 2008 2:10pm CST
I grew up on a Farm during WW2. Prices were good, we had 2 hired men, and everyone helped with the chores around the Barn. Even my Mom helped milk the cows. My job was cleaning the Pig-pen. At that time farm kids seldom wore shoes, and rubber boots were unheard of during the war. There is something special about going bare footed that's not there when your feet are encased boots, a feel for the earth under your feet, a unique connection to Mother Nature like none other. I'll not soon forget the sensations that came from my feet, as I stepped into the Pen with the Pigs. A cool, wet, sentience spread slowly up my legs as my feet settled into the straw, and the moist, slippery, manure oozed up between my toes. I shoveled the sticky odoriferous mixture out the open window, and onto the manure pile. There were Flies everywhere, so thick I couldn't open my mouth without getting a mouthful. The pigs were sleeping off their last meal and didn't want to be disturbed. I enjoyed the rasping sound of the shovel scraping along the wet cement floor, while the flies buzzed, and the pigs grunted. Soon, too soon perhaps, the job was done, and it was time to wash my feet in a pail, at the well. Oh! That water was cold!
3 responses

• United States
19 Jun 08
I never had the pleasure to live on a farm..My Mom told me a lot of stories about the gardens,smoke houses and all those things that happened back then..She told me they got one pair of shoes a year when her Dad sold a pig...It always sounded as though they had so much with all their freah vegetables and their fresh smoked hams,it all sounded like so much fun...Unfortunely when was born we had a house,and we bought everything from the stores..Its sounds like you have some great memories...

• Ireland
18 Jun 08
wow barehugs what a beautiful clear memory i feel the same way about my childhood memories so raw and creative and fresh a day at the bog handling turf all day the look of haystacks fresh home smoked mackeral fished in little prehistoric boats owned by local men picking mushrooms i could go on and on thankyou for the beautiful image

• Canada
19 Jun 08
I have never cleaned out a pen, especially a pig pen without my farm boots. YECH! But I have heard other stores from the 'old timers' about it. I do remember as a child, though, the feeling of bare feet on the earth. I'm too worried about cutting myself now or having an animal step on my toes. lol I have horses and sheep, you know. That can cause an ouch. Plus, I mostly climb over the gates I build in the sheep barn, because they are pretty good at opening gates themselves for some reason. And nowadays, I have a hired neighbour that does the shovelling for me in the pens that are not accessible by the bobcat. HURRAY!