Do you have birds in your compound? Sparrows after the rain!!!!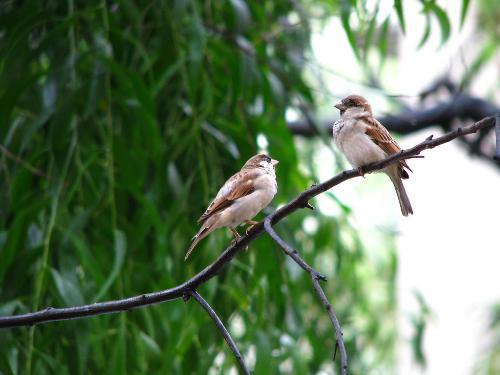 India
June 19, 2008 9:30am CST
We have a few birds in our compound and it is a pleasure to hear them chirp and twitter right in the mornings. The sound gets sweeter to the ears and the whole compound is a feast to the eyes after a spell of rain . Last week we enjoyed a good spell of rain and I thought that the monsoon rains had arrived with a big bang. They were summer rains that however was a great respite from the terrible humidity of the past month. We have a few trees in the compound and those rain soaked leaves were a sight to behold! How I love to see this rain and the birds in the trees!
6 responses

• Canada
29 Jul 08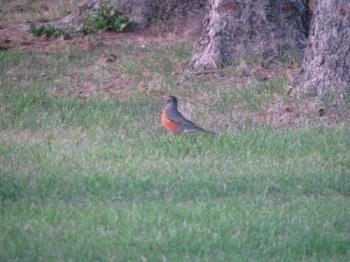 Hi...love topics like this. We have soooo many different types of birds in our backyard and surrounding areas. Within our small rural community there are always birds and other types of wildlife to capture on film. I have included a couple for you to see. Yes, Kala I also love the scent of the air after it rains...and how the birds love to bathe in our two ponds and bird bath. I commented on your photo...very cute! Raia

• Canada
29 Jul 08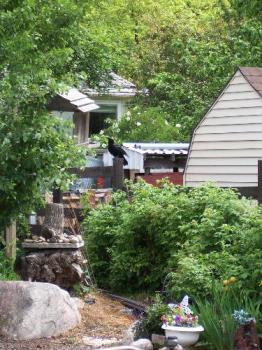 Here is another photo of a much bigger bird that dropped by for a visit to our feeder. This shiny black raven was an unexpected...but much appreciated visitor. Raia

• Canada
29 Jul 08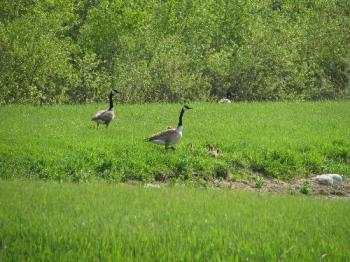 One more photo and then I will quit...even though there are many more in my photo library of feathered friends. This image is of Canadian Geese. Although this photo was not captured in our back yard...it was only a short distance from where we live. Hope you enjoy them and their fluffy gosling babies. Fun sharing with you!!!! Cheers my friend, Raia

• India
30 Jul 08
What lovely photographs. I quickly set your colorful robin as my desktop background but the moment I saw the Canadian geese I grabbed those and changed my desktop background. Stretches of greenery never cease to fascinate me and I literally gape at them open-mouthed. In fact I was about to ask you to upload some more photographs of fruit trees [if you have any in your backyard]. This is another sight that fills me with delight.]The robin is something that I have never seen. I have seen a raven earlier and in our school, girls used to associate two for joy, one for sorrow four for letter etc etc.., [superstitious myth of course]. But this raven looked rather plump and well fed. Our country is only a developing country and south India has not been a land of plenty over the last decades.Probably that is why those ravens did look a bit lean and haggard in contrast with your wellfed visitor I guess!


• India
20 Jun 08
So beautiful! Kalav, you are blessed. We hardly can see any bird here except for sparrows and crows. Poor creatures they have to take recluse if distant trees. We hardly have any around here. Where are we heading? I fear.

• India
20 Jun 08
True.We were extremely lucky tohave found a house with trees in the compound.It is an old flat and the whole construction with the compound [with 40 odd houses in this] is now up for sale. We can stay on for a few more months but I don't know what would happen to the trees .Theeafter these poor birds would lose their habitat.

• India
23 Jun 08
This is sad to hear! Kalav, life wouldn't be the same for you people there after the sale. Try to enjoy the best of it now.

•
19 Jun 08
Yes there are blackbirds and the obviouse starlings that are in on the food all of the time,then yesterday there were a couple of lovely little finches that were sitting on the hedges ,they were really great and we were watching them play,its nature at its best,

• China
7 Jan 09

What a beautiful picture you have described in the discussion. It is true indeed that it is a pleasure to hear them chirp and twitter in the early mornings. There are a lot of sparrows around the river and bamboo and trees around my apartment. There are some couples of sparrows having their nest built under my apartment roof which is next to the small kitchen. Sometimes they stay at the exit to my exhausting fan chirping merrily there early in the morning. I love to watch and see them, but lately they are not here any longer because of the cold weather. They are somewhere in the far south where it is warmer. Every year they fly back to their nest here under my roof. They are always welcome back.

• India
20 Jun 08
well, it is nice to hear and see the birds in the morning.you are really blessed to have the experience. one thing I have noticed is that we are able to hear the tiny voices(not loud chirpings) only when we are serene and have an ear to hear them.In other words we can be sure of being calm if we are able to hear these voice of nature.

• India
10 Dec 08
We do not have birds as such in our House Area on a regular basis . However;we occasionally see some Sparrows and Pigeons along with Myna on our Roofs. It is so nice to see these birds there. Seeing these birds there gives us a lot of pleasure and soothes our senses . Regards -Sweety_81