Pet geese...

June 21, 2008 7:18am CST
Does anyone else have any pet geese? Ive uploaded a photo of one of mine...(the white one on the photos section!)
1 response

• United States
21 Jun 08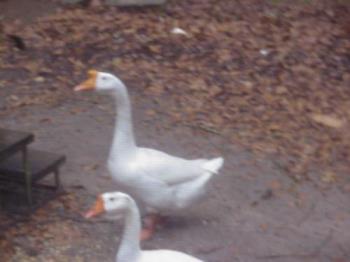 I had two geese for about eight years. We finally had to find a new home for them because we had to expand our yard for our dogs. The male was a real stinker. He knew better than to mess with me though. If he got too feisty I would run him down, grab him gently around the neck and hold him a minute or two...He would forget on occasion who was boss and I had to show him. Sometimes all I had to do was look at him and tell him 'You better get on with yourself' and he'd waddle off. They were a lot of fun, I added a picture of the two of them.