Alma Mater, Now and Ever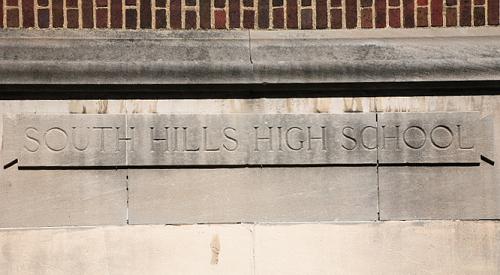 United States
June 22, 2008 9:05pm CST
Alma Mater, Now And Ever by Marilyn Mackenzie [b]Alma mater, now and ever Shall we raise our song to thee Every son and every daughter Pledging love and loyalty...[/b] That's the first part of the alma mater song for the school from which I graduated in 1970. South Hills High School in Pittsburgh, PA closed down sometime in the 80s. I think it was around 1983. When I went to South Hills, there were over 900 in my graduating class and at least 2500 in the school. But the City of Pittsburgh decided to build super-high schools designed for even more students. They closed the regular schools and combined 2 or 3 or 4 of them into a super-school. By then, I was married and divorced and living in another state and I didn't think much about it. I never have seen any of those super-high schools. Not long after they close our high school, the talks began about what would happen to it. It was still in good shape. It had been standing sturdy and proud since the 1920s and you know how well they built things back then. There was always some talk about how they might make senior citizen condos out of the school. I didn't care about that 20 years ago. But as the years went by and nothing became of the school, I worried about the hallowed halls like everyone else. And the closer I got to that senior citizen stage, the more I thought what fun it might be to live out one's last days where one went to high school. Or maybe not. If everyone had memory problems, would we try to relive those high school days? Hmmm. A few days ago, one of my former classmates emailed me a few pictures of the school. The first one was of the name outside. Yes it was aged and cracked but nothing like I had feared. The second picture showed the outside of the building. Okay, there was grass growing in the cracks of what used to be solid concrete. But it didn't look too bad either. Even the picture of the inside stairs wasn't as bad as I imagined it might have been. My classmate also provided a link showing the state of disrepair of the rest of the building, and I have to tell you, I cried. There's no way anyone is going to fix up that old bulding - unless they want to spend a fortune. Here's the link. Take a look and then cry with me about what once was. http://www.preservationphoto.com/loc31.html Then tell me about your high school. Is it still in use? How old is the building? What fond memories do you have?
4 responses

• United States
24 Jun 08
I think the thing that got me about this story was the fact that when you had asked for fond memories of our High School days I could not really remember a time in my High School days that were all that fond. But the things that stick out about my High School was the fact it was spread out so much it seemed like it took me 3 days just to get from class to class and trying to drag mysedlf in my chair caring on my lap and trying to ballance books on my lap and getting through God only knows how many kids and trying to get to class on time seemed more than I could do some days on time. Even when it was that I had left class at least 5 minutes ahead of the kids in the school. And Gym Class was a night mare but it was eather be in class or flunk. What they did not tell me till my junior year was that If I had stayed there till I was 100 I would never graduate. The day I was called into the councelers office and was told that was the day I went home and told mom she could beat me till the cows came home but I was not staying in that school. She was going to go up to the school and makew a compleate fol out of herself and it most likly would have did no good any way but I would not let her. Back then I had just got tired of fighting and mom always being the one to fight my battles. I figured at the time I was just having a big enough battle staying alive that I should just cut my losses and be glad I had got as far as I had. I regret that Choice now. But at the time I felt I had to do what was fair to mom and me.

• United States
25 Jun 08
That's sad, Angela. Our school was on 2 floors with no elevators, so you couldn't have made it there in your wheelchair. Weird about the gym classes. When I was in high school, one had to have 4 years of health and gym classes too. But when one gym teacher was a total jerk, I was able to opt out and still get credit.

• United States
25 Jun 08
I think the thing that angers me the worst about my time in that school was I never tried to bother anyone but I always no matter what I did it was as if they thought all I wanted was special treatment in from that school, And there was a reason I think i got the fall out for that, See I was not the only disabled girl in the school but the other girl I knew had a mother that worked in the same school as a sub when any teacher was sick and she was fairly populer but it seemed as if things came easy for her and I found out after she graduated and went to collage as things was so easy for her in the High school once she went to collage and did not have her mom ther to help pave her way she flunked out of collage after one semester and the girl caled me not long after whinning about how hard she had it and I reminded her about what she told me in school when I was going to her for help and told her like she told me to suck it up, Needless to say she hung up on me and I never saw her or heard from her again and most likly will not. But the point is that I want to make is I learned very fast nothing can be handed to you you have to earn it fairly so when I was told I had to take the Gym classes but was told all I had to do was sit to get credit I did not see the reason for the classes and wanted to do something else to get my credits in but they did not want me to but when it was that girl becausde her mom was a sub it was fine and dandy. That's why I would not let mom fight that battle because I did not wasnt to be a repeat of that girl. At the time I knew I was just as good as she was and no better and at the time knowing that I did what I did honestly was enough for me at that time.

• United States
2 Jul 08
Hail to the black and gold our banner we unfold. I can't seem to remember the rest of the Alma Mater for Bentworth here in Bentleyville Pa. I didn't now the old south hills high looks like that now. it so sad. Bentworth is still in use, though it's not the greatest school in the area it wasn't all that great when I graduated in 2001. But I enjoyed my time there even though I was a bit of a loner.

• United States
3 Jul 08
Golly, I'm doing better remembering my alma mater...and I'm a bit older. Perhaps that is why, though. We old folks do tend to remember the past. (And forget what we had for dinner last night.)

•
25 Jun 08
I do not have many fond memories of my school as i did not enjoy school very much. Where my school once stood is now an housing estate as they knocked it down a long time ago. But the funny thng is that i now live just down the road from where my school was. So i can step out my front door and see where my school was. I never thought that the road i walked up regulary to school, i would end up living on. Thats so sad about your old school its a shame they can't fix it up and find a use for it.

• United States
25 Jun 08
It is a shame, isn't it? It was a stately building in its prime.

• United States
24 Jun 08
Looking at the pictures of your old school, it looks like it was a great place to be in its glory days. my high school is definitely still in use. it happens to be the only school in my city that is a full magnet school. we were also one of the top rated schools in the country. the building is fairly old, although i'm not entirely sure how old it is. it was definitely built before the 1920s. Renovations have been done on the school periodically in order to keep it up to date and by looking at it, it doesn't look as old as it is. It's a shame that your old high school has been left to age without proper care or maintenance. i can't even begin to imagine how devastated i would be if that happened to my school.

• United States
24 Jun 08
Yeah, it's a bummer. I hate to see any old building crumble and die. But when the authorities said that the school would be made into apartments or conds, we all thought that was a great idea. Too bad someone didn't work at that in the late 80s.