stay? or stay out?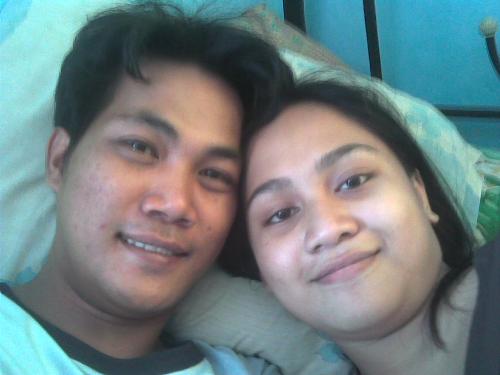 Philippines
June 27, 2008 11:59am CST
when love seems to be fading would you stay or stay out of it? if you two are married and it seems that it's not working anymore would you stay or stay out of it? im sure a lot of people can relate about this and i hope you can help me make things right for me, for my husband, and most of all for my child.. im a 20 year old married woman who got pregnant at 16 and had a child at 17.. got pregnant again at 19 and get married at 20 and guess what.. my children had different fathers.. ive met my husband at the age of 19 i can still remember it was april 2007.. he became my boyfriend at the month of may.. had made love at the month of june and got pregnant on august too fast isnt it? we live together starting at the end of the month of september got married at the month of january 2008...i didnt have any job my husband works as a cellphone technician and have a very little income.. at first it was good i know he cares for me alot.. i knew he loved me then but as time passes by everything changed.. im 6 month pregnant when he started shouting at me at first i said its ok maybe he's just tired but later on our misunderstandings grew deeper and deeper he begun making things difficult for us until i found out he had another woman.. you know what i did? the moment i have read the girls message on his cellphone i never said anything.. we're at his work then when i caugth him i never said a thing even a single thing i just kept quite and hide it inside im 6 months pregnant during that time.. i just left the shop when i got home i drink a beer smoke 20 sticks of cigarrete and i opened the stereo in its loudest.. i shout and shout while i was crying he hurried home and found me in that situation say sorry and begged me to forgive him but still i never said anything.. i thought he would changed and i almost believed he would but im wrong.. i gave birth to my son on march.. and my biggest downfall started at that time... i dont know where would i get money to pay for the hospital because my hubby havent kept any single coin for my child's delivery my mom paid the hospital and i got out.. when we arrived home he doesnt even bother to cook food for me didnt care for me thinking that i justy gave birth to my son OUR SON.. he leave everyday without anything to eat and i thank God that He provided me a good friend who help me.. my hubby doesnt even bother to help me getting up the bed.. its not easy for me to get up then because i had a problem with my stitches.. i almost gave up just think of my children and ill be ok again.. my mom is too far away she just cant afford to be with me.. at the last day of the month of march my son died.. i just woke up and find him dead.. it was the biggest and the deepest that hurts me.. he's only 3 weeks old.. the doctor said he died because he had a heart problem probably because when im pregnant im only getting too much problem and hurtings.. and now things grew more and more difficult.. i loved my husband i love him more than what he thinks but i just cant hold on.. everthing just went out bad.. i knew he wants to leave and i wanted to but 1 thing holds us back.. WE'RE MARRIED.. i dont know what to do i love him but its not enough.. and i know he doesnt love me anymore like he used to be.. and 1 thing that bothers me most is my daughter.. my hubby dont like her he keeps on nagging me about my child we're living in the same house MY HOUSE my famillies house.. please help me i dont know what to do anymore i want him out of my life but i just cant do it.. how can i tell him about it?what would you advice would i stay or stay out of it?
4 responses

• United States
27 Jun 08
Hey, I really feel for you. I know your pain, because I was in almost the same situation. First of all, think about your daughter. If she is a "problem" for your husband, stay out. Get rid of him. You have been through so much heartache, and he seems to be adding to it. You deserve to have a man that is faithful to you and that loves your child. What is holding you back? Is it money? Is it mixed feelings? Sit down and write all the good things this marriage gives you and write all the bad. Don't hink with your heart. Think with your head. Sometimes, we feel afraid. We may be afraid that we can't make it financially or that we may be alone for the rest of our lives. Trust me. I understand your feelings. I was so afraid of both. One day, I got to the point in my life that I just didn't care anymore. I didn't care if I was alone. I didn't care if I lived in a cardboard box. I just had to get out. My pain turned to anger. I am living proof (a mother of 5 children) you will not end up alone, unless you decide to be alone). Lean on your friends. That's what friends are for. My suggestion to you is to get out of the marriage...especially if he is with someone else. You deserve more than that. If I can be more help, please let me know. DO NOT let him steal your joy.

• Philippines
28 Jun 08
he lived in my famillies house how can i tell him to go and get lost? he have this attitude problem that nobody is right except him.. ive tried to kicked him out but he never leaves

• United States
29 Jun 08
Sophie, I know what you are saying about him thinking that he is the only one that is right. I have been there. I also know how you feel when you try to get him to leave and he refuses. I have experienced that as well. You feel helpless. Where can you turn? What can you do? If you are anything like I was, you don't want to call the police on him and you don't want all kinds of drama...especially around your child...and you feel like your hands are tied. I purchased new locks. They are very easy to change. When he walked out, I went to work. Does he have a cell? Leave him a message and tell him he is not to go back. Do not leave anything that belongs to him in the house. Have everything waiting for him outside. Then, he will have no excuse as to why he needs to come in. Try that as a start. Don't make idle threats. If you tell him not to go around or you will call the police --DO what you SAY. Let him know that you mean business. You will not have to press charges on him ...it may be necessary later. I don't know your personality and if I did maybe I could offer better advise for you. Don't give up. Don't give in. Keep your head up and you'll be fine. Please feel free to contact me whenever you need.

• Philippines
29 Jun 08
in my opinion, at an early age, then the time comes that your love is fading to one another but you have a kid, i think i should try to have a counseling or an activity that may return the healthy relationship that we have. talk to one another and open whatever the point in a relationship that makes it weaker. then, apply it... but, it that thing doesnt work. i would set her free and begin a new life. it hard to be in a relationship that is not working anymore... not, because of the kid/s. it is also for the hapiness of the both parties. so, i would set her free and accept the reality that this is it. i cant live with her anymore...

• Canada
29 Jun 08
I am sad to hear about you loss and predicament. I could only wish the best for you and your family. It not a good idea to get out of marriage as it will affect your child. You said he does not love you or your daughter. Is that really the case? If that is the way he feels why does he stay at your parents house? What I would suggest is give it another try. continue loving him and care for him. If you have time, have a heart to heart talk, confirm if he still love you and your child. If he says yes, keep fighting for it. If he said no, then you may want to seek counseling, I know there are free counselors in most communities/churches. I can only suggest positive things as I do not know the consequences of ending a relationship (i.e. annulment and legal matters). I do hope your marriage survives. Keep Praying:)

• United States
27 Jun 08
Sophie,Welcome to mylot..I can feel your pain, I feel so bad for you.I am very sorry anout the loss of your son.I can not really tell you what to do, but by the sounds of your relationship, it sounds like you should get out.If your husband cheated on you once he will do it again.I know, because I once lived through an abuseive relation, he abused me both mentaly and physicaly and he cheated on me, he always said he was sorry and would hange, but never did.They only get worse.If he was not there for you when you needed him most after your child was born, he never will be.Your child, you and him all need to be happy.