my doggie

United States
June 29, 2008 3:03pm CST
I love my doggie, hes a pekingese. What kind of pet do you own? & for how long? I've had him for 6 months & my previous dog (same breed) i had him for 10 years.
3 responses

• United States
30 Jun 08
I have a dauschund terrier mix. I ahve had him for eight years. He is a good dog,but is temperamental at times. He sometimes gets mad at my husband for not very good reasons. He is always sweet to me though.

• United States
29 Jun 08
I have a friend who use to have a Pekingese. That dog was her best friend. I have four dogs. Cooper, the dog I've had the longest, is A Blue Heeler/Cocker Spaniel mix. I've had him for over 5 years. I got him from the same friend I previously mentioned. Actually, I've gotten 2 dogs from my friend and 2 from her mother. My second dog, the other one I got from my friend, is an Australian Shepherd mix. She's the smallest of the 4 dogs. Her name is Missy and she was a rescue. I've had her for about a year and a half to 2 years, I think. My other two dogs were also rescues, but I got them from my friend's mother. Mia is a German Shepherd mix. I've had her for over a year. She walked right up to the front door of the place where my friend's mother works. They couldn't find her owner so I said I would take her. Finally, last but certainly not least, because she's the largest of my dogs, is Suzie. She's only been here for a few months. I think she is maybe a German Shepherd/Rottweiler mix. She seems to have the body shape and size of a German Shepherd and the coloring of a Rottweiler. When my friend's mother found her, she was being neglected. And the people who owned her before that abused her. I was just suppose to give her a temporary home while my friend's mother found her a new home. But, while she was here, my other dogs slowly began to accept her. And she certainly wanted to be accepted. So, I didn't have the heart to see her uprooted again and decided to give her a permanent home in my family.

• United States
29 Jun 08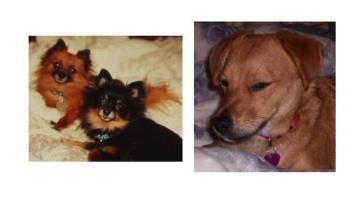 Right now we just have one dog, a family dog that we named Rosie. Someone, and we don't know who, left her in our yard on Oct. 29th of 2007 in the middle of the night. She was wearing a brand new pink collar with pink roses sewn on it, hence the name Rosie. They also left a bag of canned dog food and dog toys in our drive way. So we kept her, so that means we've had her about 8 months now. She's a mixed breed, no clue what though. Before her, about three years or so ago,I had my own two dogs, Pomeranians, Puff, the brown one, and Talitha, the black one that I'd had for 14 and 15 years. They were the dogs of my heart and I still miss them. Don't get me wrong though, I love Rosie now but she is a family dog and not my own dog. She does sleep with me at night though. I've added a picture of them all so you can see them.