Assets versus liabilities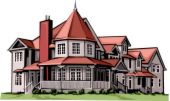 Philippines
July 1, 2008 3:46am CST
Hi everyone! In financial matters, asset is something of monetary value owned by a firm or an individual. It is a resource having economic value that is expected to generate income and will provide future benefit. A liability on the other hand is disadvantageous. It is an obligation to pay an amount of money for goods or services to another party. Liabilities are expenses. Now, in buying a house, would you consider it an asset or a liability? Justify. Let's talk mylotters.
2 responses

• Mexico
1 Jul 08
Depends if this house is for you to live in. If it is only for an investment then I suppose it depends on how much it will apreciate and in what time. Also to consider is the condition of the house and if it will be secure if no one is there to take care of it. I personally consider a house bolth. For sure until it is paid off, at this point the property taxes will aleays be a liablity. Taxes me be better than rent but I supose this is a personal point of veiw. Sincerely a fellow mylotter.

•
1 Jul 08
Houses are liabilities - if they're your own home. They don't put money in your pocket, or generate income. Instead, they continually cost money to keep going, bills, insurance, repairs, mortgages. Properties you buy to rent out can be assets though. Although they still cost to run, usually insurance and mortgage with some maintenance, they can generate a positive or break even cash flow.