What points do protesters score by trying to disrupt G8 Meetings?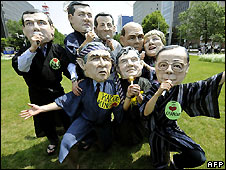 Uganda
July 5, 2008 6:47am CST
Every time there is G8 meeting, you hear there are protestors burning flags and trying to kill themselves with fire and what have you-I still comletely dont understand-can someone tell me why civilians should protest against G8 meetings?
3 responses

• United States
5 Jul 08
There are simple minded people who have nothing better to do than go protest something. These people are attention whoremongers who want to feel important even when they are not. At least when they protest, they have a life in their imaginations. In other words, most protestors are mentally deranged to a certain degree.

• Uganda
5 Jul 08
Not withstanding the anguish of gab, I want agree with you red...I saw this in Europ, in Russia, in germany and nearly every where ther has been a G8 meeting, why should people want to protest so badly? There is an element of simple minded ness here!

• Italy
5 Jul 08
i don't think they take results into consideration. the point is: if you really feel something, you'll act acording to what you feel, not judging on how useful your action is. protesters, at least the ones who don't do it for fashion, feel they have to protest against what they believe is wrong. i think anyone would, only that we all have different causes that move us. yours might be racial injustice, they protest against globalization

• Uganda
5 Jul 08
What has globalization done forgoodnessake-am rather dense in these issues, id globalization bad for the world? If so, where exactly is it bad and what are these G8 powers doing to demonize globalization?

• Italy
5 Jul 08
globalization has exasperated consuming, it has exasperatet waste, it has flattened cultural differences, it has impoverished the worlds resources... the list is long don't misunderstand me, i'd never partecipate in those protests, and i don't like the ones that do. but i do understand the reasons that move them.