smells that make your cat go crazyyy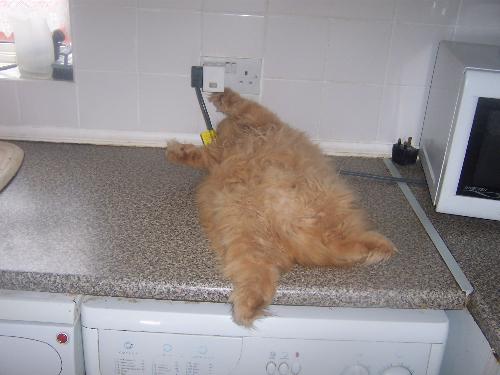 July 5, 2008 2:49pm CST
i have a persian, and when ever i use bleach she goes crazy rolling about on her back.. Looks most funny... if i use bleach anywhere she comes and goes crazy as though she is drugged up with just the smell of it lol Smell of bleach on my hands course her to roll about for ages, she wil even follow me trying to get to my hands.. She goes all daft, rolling and playful after just one smell of it.. I have to keep it well out of her way and not use on floors. Why is this... i am so curious as to what it is about cats and bleach? Also i would be interested to know if other cat owners have experienced this too or with any other smells that make cats high.. catnip donut affect my cat like bleach lol maybe next my cat will be a glue sniffer haha
4 responses


•
6 Jul 08
thanks for the nice warm welcome :)) Well bleach and cats is certainly one of those mysteries in life lool It is funny to watch, but know its not good for her to be bleach sniffing haha.. or rolling about in it

• India
9 Jul 08
I am from India and we dont keep cats in our house.My neighbor is having one cat and when we fry some fishes,she makes some special sound and approaches near to our kitchen.

•
9 Jul 08
hello, thanks for your response.. I think many cats love smell and taste of fish, except my silly cat hehe.. She just don't act like a normal cat, maybe mine makes a sound then the rolly polly but with the smell of bleach haha..

• United States
6 Jul 08
When I had my cat two things made him go nutty. The first was catnip. It was funny to watch. The second was kittens.He got mean around kittens. They apparently smell different than grown cats.

•
6 Jul 08
hi nice to meet you and thanks for response :) Strange but catnip don't always seem to work with my cat.. But i suppose maybe it looses its strength after a short while. As for kittens hmmm.. i expect would smell different, like baby do..and cats love baby's as we know due to the smell i expect.

• United States
6 Jul 08
My cat Oliver loves smelling my shopping bags when I come home from Pet Smart. I guess he picks up scents from other animals that are brought into the store. He's not into bleach. He likes smelling my shoes after I've been on walks in the park, guess the natural odors of the grass etc. make him high. He also likes feathers, if I find any on my walks I bring them home and he just goes crazy with them.

•
6 Jul 08
thanks for your response :) o my cat will come investigate in shopping bags when i come home, but only cos she is being nosy like a child, maybe to see if anything there for her lool BUT, for some reason.. bleach has more affect on her then catnip.. Just 1 sniff thats all it takes.. and she is rolling all over the place haha