Got paid by DNeero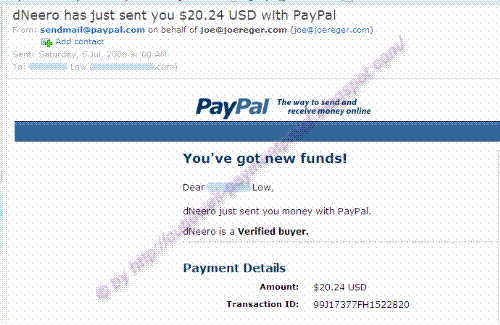 Malaysia
July 7, 2008 4:28am CST
I've been skeptical with this particular paid survey program when I first joined as they are many survey sites which didn't pay as promised. Nevertheless, I've decided to try this out myself before sharing with others. The good news is: Yes, dNeero is paying me! I've got my payment to my PayPal automatically when my balance reached $20. It was really fast as the day before I've got $0.35 additional balance to go before I was eligible for the payout. If you have a blog and trying to make some extra money from it, all you have to do is to sign-up (check my profile for the link, hope you could help me up with the referral as I've been earning alone all these while^o^). The next steps: (1) update your profile & paypal info (2) take surveys (3) post the survey code into your blog entry - you could earn by the survey itself plus the generated impressions It's that simple, check my proof of payment via http://cutieweii-paymentproof.blogspot.com/
6 responses

• Philippines
11 Jul 08
Nice to hear that, Im also a member, but Im not really recruiting just sharing coz its not about referrals in this site, as you said its all about traffic. We only get 3% of what our downline makes thats only 2cents when our downline reach payout so its all about traffic how many surveys did you make before you reach payout?

• Malaysia
11 Jul 08
Yeah, you are right that the referral earning is too little as compared to other earning program. But it still contribute a bit I guess, provided with a huge referral base of course. I took 42 surveys with 2 disqualifies, so was exactly 4 surveys that entitled me to the $20 payout. I think some other people can earn the payout with less surveys because of their better blog traffic, mine is not so much of traffic though. So, good luck to you and hope you will get your payout soon!

• United States
24 Jul 08
That's awesome news! I've been a member for quote some time with them, but have been slacking on the surveys alot lately. I'm glad to hear that they do pay! I'm also going to check your blog and see if you have anything else I'd be interested in. Thanks :)

• Malaysia
24 Jul 08
I know, it doesn't give much encourage to spend time doing things if we are unsure if there's returns. Now, you may rest assure and continue on with dNeero conversations/surveys. If you have activated the email notification with dNeero, they'll send you email to inform about the new conversations/surveys available to you. But since I spotted and installed dNeero application in my Facebook profile, I'll mostly check daily as I'm in facebook on daily basis too.

• United States
24 Jul 08
Atleast their surveys are often fun and interesting, and they contain something interesting on the dneero box that we put on our pages. I'm about 1/2 way to payout on that one, but like I said I havne't been too active on it lately. I'm going to try to remember to do it more often now. THanks for the good news;)

• Malaysia
14 Sep 08
Yeah, it's fun and interesting...hope you could get paid very soon! It will be faster if you have a good traffic to your blog/website/pages... Good luck to you!


• Japan
28 Sep 08
I was also paid by
dNeero
just two days ago. It's really a great site and payment is really fast. I got mine in less than an hour. There is no rule like "get paid when the month ends".

Plus I also like how they designed their conversation embeds. It's really cool and designed very well. It's really makes attention when you see one. LOL


• Malaysia
29 Sep 08
Yeah, I agree with those good points that dNeero has. Most important thing is that the payment is actually automatic. Once you hit the minimum payout level, you don't even have to request and they pay automatically. That's good!

• Philippines
14 Sep 08
well its good to know that you got paid by dneero..i hope too that i can be paid..i put their codes to my blog and im trying to manual surf to increase my traffic...goodluck to me..$20 is a long way to reach but hey i might just get there soon.

• Malaysia
14 Sep 08
Yeah, wishing you luck and hope you could get paid very soon! Emm, getting the traffic via manual surf might be a good idea, I've never thought of this before. Thanks.

• India
28 Aug 08
i too recieved payment from dneero.it is a good survey site.

• Malaysia
14 Sep 08
Yeah it is! Congratulation on your payment :)

• China
1 Oct 08
thank you for your share this site.but little mission for china registers.

• Malaysia
5 Oct 08
You are most welcome, licisheng. As far as I know from their terms at this point of time, there's no restriction of China members or whatsoever. But, it's open only to those who are not under 13 years old. Maybe we shall check if any China member have been paid by them before?