what is your favorite quote? why?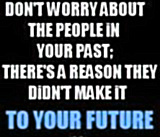 United States
July 8, 2008 9:07am CST
" don't worry about the people in your past, there's a reason they didn't make it to your future" I like it because it's so true.
1 response

• United States
8 Jul 08
From my cousin 12-years-ago to his second child. 'Just because I made a mistake with your brother, doesn't obligate me to make the same mistake with you.' From what I can remember, they tried to help the oldest child out with a car, and it was a mistake. So naturally when the younger ones came along they tried to pull the old 'well you bought so and so one' This is one of the wisest things I have ever heard a parent say.