Anybody love soccer?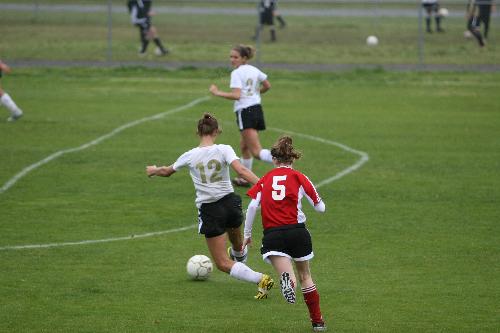 United States
July 8, 2008 6:50pm CST
Soccer is the number one sport in my family besides football. Our grandson was a football player in high school and we went to every game. He also played soccer until he got through the 7th grade. My daughter's other three children are also soccer players. Her daughter played 5 years for the school until she graduated this May. She also played Premier (traveling) soccer for a team in town. I'm uploading a photo of her (#12) in a Invitational tournament where about 18 teams competed for the title. She was the captain of her team for the last two years. Her school (boys and girls) teams took home both First place titles. They were so excited. It was especially neat in that it was her last year to play. She is no longer eligible to play Premier soccer, either, since she is now 18. And, she is not going to college to play. We will certainly miss that. But we have years to go with her other 2 brothers, who will be 7th and 9th graders. The 9th grader is a Varsity soccer player. The 7th grader plays Premier soccer,but will be taking a break this fall and starting up again in the Spring. But we will definitely miss seeing him and his sister play this year. It was hard to see her in her last game. We had grown to know so many of the kids over the years and their parents. But we will see them in the spring when the Varsity plays again since the boys and girls mostly play the same nights at the same places.
6 responses


• United States
9 Jul 08
Where are you from EZ? I know some countries do call it football. My granddaughter has a friend in Germany who is still in HS and plays. His best friend is here in the US, and went to her HS for the past few years. He just graduated with her in May. And, he played on the Boys Varsity team and was a great player. You are right; it's definitely a game of skill. And, if you don't have it, then you don't play.

•
9 Jul 08
Well said! I'm from England and footy is our number one sport here so I can't imagine not liking it! We have healthy competition in our house because we support different teams. Do your grandkids just play for fun or is it something they take seriously?? MY husband is Captain of his Battery team and is trying to train for his coaching badges in the next couple of years.

• United States
22 Jul 08
My grandkids take soccer seriously, but they also play for fun. They just love the game, period. They love to win, too. I've seen my granddaughter cry when they would lose simply because she knew they could have. I think it hurt her worse in her last year of high school, knowing she would never be playing the game again for competition.

• United States
9 Jul 08
No, I don't love soccer. Actually, I really hate soccer. A lot. Everyone who plays soccer will try to pitch to me that "It's not boring! The clock never stops! It's constant action!" Except that it's not. This totally neglects the times that the ball is just sitting there, or somebody is just walking it up the pitch. And that nobody EVER scores. EVER. So no, I'm not a fan of organized jogging, and I don''t see how anyone can be.

• United States
9 Jul 08
Sorry you have such a negative outlook on soccer. But you are wrong. They do score and it's definitely not boring, especially Premier soccer of Varsity soccer. I've really never found any of it boring myself. In fact, there are as many kids hurt in soccer as there are in football, maybe more. They don't wear any protective gear other than shin guards. My granddaughter has gotten knocked out and sent to the ER where she spent 8 hrs after a game. She also got her foot broke caused by a goalie as she went to kick the ball into the goal. That put her out of the last 1 1/2 games of the year in 2007. So don't tell me they walk. It is definitely not organized jogging. Apparently you are one of those that says soccer is a sissy game. You should have tried it. It is harder than you think! If you haven't tried it, don't knock it.


• United States
9 Jul 08
Soccer is just watered-down hockey. The same concept, but with less movement, less scoring, less excitement, less fun, and less people actually playing hard. And they NEVER score on the professional level.

• China
15 Jul 08
soccer is great.i have played soccer for 7 years.i have made a lot friends because we all love soccer.

• United States
15 Jul 08
To me, outside of football, soccer is the best! We've been watching grandkids for about 12 years and have enjoyed every minute of it! I will probably watch lots of it, come this next Spring. One grandson will be playing Varsity and the younger one will be playing on a traveling team. He isn't playing with them this fall, but will play with one in the Spring I'm sure. If he doesn't get his goalie job back with the one he's played for several years, there is a better team already wanting him. They tried to get him last year.

• United States
13 Jul 08
hey barb, yea! i love soccer, its great, i am 22 and played when i was younger for 4 years. i only made 2 goals in 4 years which were in the same game, but i still love playing. i even get out and play with my grandmother sometimes still, we actually might go out for awhile today, to put in some excersize time. thanks for posting this blog. it gets me excited! =]

• United States
13 Jul 08
Soccer kind of gets in your blood, doesn't it. My grandchildren love it and never tire of it. Glad you can go out and play with your grandmother. And I'm glad I could get you excited over soccer today. Right now, it's too hot in my area to play. But the wind has started up, so we might be in for a little rain this afternoon.

• China
9 Jul 08
Yeah...I also like soccer very mnch.I often play soccer with my brothers.I was the best player in my high school.I am a boy.I like sports,not only soccer.But my fav is soccer.I like it so much.Now I am in a college.I have more time to do something I like.Yes,soccer!!It brings me a lot of fun.And I can make many friends when I play soccer.

• United States
9 Jul 08
I wish my granddaughter had chosen to go play soccer in college. But she chose to start off at a 2 year college near her home and then transfer. We are really going to miss seeing her play this next year. She's been playing since she was 6 or 7. And you are right; it does give you a chance to meet lots of other kids and make friends. She has friends all over from playing Premier ball. They traveled all over the place, and the kids on her team were from school all over.

• United States
18 Jul 08
I have not learned to understand soccer too much. My husband likes watching it on the Spanish channel. He says the host there makes it more exciting even though he does not know what they are saying. I usually only know the score afterwards because when he watches soccer, his friends come and hang out and I don't like hanging around when they watch tv. They are loud and I respect his private boys time too. It does make a difference if you have kids that play soccer, you then get to understand the game and appreciate it more. My son does not like soccer, so Im out of luck.