Do they pay Dowry in your country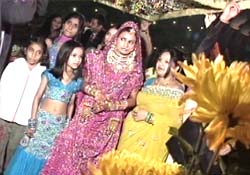 India
4 responses

• United States
20 Jul 08
hi praj111, I live in the states and no, we do not have dowery and haven't for years and years. Here people marry for love and in my opinion that is how it should be. The dowry is a baby step away from being slavery. It is wrong and insulting to the woman. I didn't know that it still existed anywhere. It is very wrong!

• India
20 Jul 08
Well yes We Do Have Dowry System in our Country(Native Place) Even if The Boy,s Family Doesn,t Want the Dowry. They have to Take it. Or else The People of our society Looks Down on The Girl,s Family. Totally Screwed up System of The People in Our Country. People here Think highly of Their Pride and Honour over here. Dowry is an Evil of The Society. But the People in our Country Still Preaches it.

• Dayton, Ohio
20 Jul 08
I am in the U.S.A. and no, we don't do that here. There may have been some places in the past here that did some sort of Dowry system, but nothing formalized. I would be amazed if anything like that were going on here now.

• India
20 Jul 08
I also thought likewise. Along with many other aspects, these are the social issues where you have really crossed a milestone.

• India
20 Jul 08
Thanks Raj for initiating this discussion. I'm also curious to know what others have to say.