Some animals are so intelligent..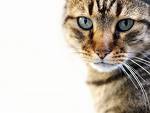 United States
July 25, 2008 3:55pm CST
I just got back from our state fair a couple days ago and I just cannot forget the feeling I felt from the horses there. They just reek intelligence and understanding and I just think they are so beautiful, I saw a little miniture pony and its little minnie pony and I could just feel all her love for her baby, its so precious. If I run into the opportunity I wish to have my one one day (ranch of course:) and love riding them as I spent a summer caring for my aunt's Belgians and just love them. I not only felt this from horses but from Orangutans and I watch a lot of National Geographic channel and Discovery and they never cease to amuse me. Once I went to the Washington DC zoo and saw this big, I believed to be a male, Orangutan and it just sat in the middle of the concrete floor staring out the window, which of course, were people looking back in. I never felt so connected before but it was like a human I was looking at--just the feeling that it understood you. Dolphins are popular for this and because their cute maybe get more recognition. There's other animals that are so intriguing like that, what about dragonflies, I always found them to be very curious of me when I was taking pictures of them and just looking to those beady eyes, it was hard to imagine....but could these animals understand us much more than we give them credit for??? We have held this century-held belief that animals are without emotion which blows me away that this still holds strong but whats so hard about that, is it we spend so little time, maybe thats why dog lovers and cat lovers seeem strange to us that dont have them, but I know I feel love for many animals and just because I do not have a cat or dog do not treat them unfairly and in fact appreciate them-----but why can't we feel the same for all species of animals...is it really that hard. Have you ever felt this personal connection or intelligence from an animal?
2 responses

• United States
25 Jul 08
I think animals have intuition and emotion. I like anmals alot. I have a special place for them in my heart. I often feel that I like animals better than people. They are not nearly as judgmental. I like to feel that my dog and cat love me as much as I love them, but I dont know if they have that same capacity. I know especially the dog feels his dependency.

• United States
26 Jul 08
Do you believe there is levels of intelligence among different animals, what you think is higher intelligent animal?

• Canada
25 Jul 08
They're a heck of a lot smarter than we give them credit for. I've had my cat, well it's not "my cat" it's my mothers cat and this tended to happen when I visited and now while I have the cat here while my mom moves. Anyway, she'll sit there and stare at me and then start walking a few feet and stop and stare, as if to say 'hey you big idiot, follow me' we proceed to the bathroom where she stares at the bathtub, then at me and walks back to her food/water station... where I notice her water bowl is empty...Adding the pieces of the puzzle together suggests... Either I'm insane or the cat knows water goes in the bathtub and she wants some.

• United States
25 Jul 08
Thats awesome, but I think your right--no not insane, right about your cat LOL. I am very allergic to cats unfortunately but used to have rats and they were so hilarious and I could call them by their name and they would come! They are so fun to be with....yea Im sitting here talking about rats...oh boy.