I got an aquarium! Hurray

Finland
July 26, 2008 7:33am CST
Hello, I just wanted to share with you all that I have purchased an aquarium. I already had one in the office, but now i have a 92 liter one at home. I have filled it up with aquariium water from the other aquarium (partly at least) so I have already fishes in it too! - one bristlenose - 8 silvertip tetras (of which one has died already) - siamese fighter fish one obviously coming up are: - neon tetras (8 or 10) - dwarf gourami - what are those corydeary (you know the catfish with the moustace) about 4 of them I think zebra or dotted. sounds good?
9 responses

• United States
26 Jul 08
I would love to have another aquarium, but I have no money or room for one. I am in a tiny, tiny house right now and there isn't a corner to put even a small one. And without a dime to spare, there's no way I could purchase what was needed to set it up. I'm hoping to be in a better position soon and have my own house, and that's one of the first things I want to do. It doesn't have to be anything huge, but I'd like at least 20 gallon.

• Finland
26 Jul 08
gallon is 3 liters? so that would be 60 liters then... yes hwat we have in the office. it is as small as you can reasonably go I think. At least to keep it easy to maintain. But you could get a cold water aquarium with goldfish etc, then you dont need equipment, just a big enough bowl that you can put on any counter. this is not so expensive.

• United States
29 Jul 08
I converted the 92 liters and came up with 24 gallons of water that it holds. Not a large tank but better than a ten gallon tank.

•
26 Jul 08
It sounds brilliant,though I know zilch about fish!!but they are emant to be very relaxing to watch,and I could imagine that that is a very true statement.I often take time when im at the garden centres to look at the tropical fish ,and the colours are great,the things that tend to catch my eye are the baby tortoises and little turtles!!but lol I wouldnt have them myself,I wouldnt have a clue how to care for them!!When the children were small hubby used to take them to the local fair and he used to come back with a couple of goldfish!!that they had `won` so we always had to try and make a home for these poor fish,so it was usually a large jar that came to the rescue and they were popped in there with a little bit of gravel!but keeping the fish you have just got is quite a complicated business,as water temperature comes into it,and the levels of air in the water,I think i would have to take a course in aquatic fish before I ever got any !!

• Finland
26 Jul 08
ooooooh yes!! when I was a child you could still win those goldfish in the fairs. I had one that survived 6 years! which is a miracle for those fish from the fairs, they are never in too good a shape. I guess that is where I got the taste from then. But no, it is not sooo hard to keep an aquarium. once it is up and running it will pretty much handle itself (just some cleaning and of course feeding required). If you have a good shop, they will give great advice.

•
26 Jul 08
BUT i AM SURE THAT YOU HAVE TO BE A LOVER OF FISH TOO,COMBINED WITH A REAL YEARNING TO KEEP THEM AS `PETS`!OH dear that caps key!!..the only time ive ever touched a fishwas when I cleaned that goldfish from the fair out!and I tried to pour it into a tea starainer!!and then it missed the strainer and I had to fish it out from the sink,it felt horrible,but there we are,you either like them or you dont!

• Finland
30 Jul 08
well nets do come in handy if you try to catch the fish. I remember my goldfish. That net thing ws annoying I would just catch it by hand and transfer it. still do that with the guppies if they need to be moved to some other container for a while.

• United States
29 Jul 08
It is a great hobby, I have been in the hobby for over 55 years and there has only been a few times that I did not have a tank (or more) set up and running. I an only at 10 aquariums right now but am going to be setting up more, mostly for breeding and raising the young for sell. At one tome I had 33 twenty gallon tanks set up and running ply six 55 gallon tanks running at the same time. I am hoping to build a fish room with up to 100 aquariums including my 150 gallon tank . The 150 will be for Altum angelfish, I wish to be one of the first to breed them in captivity.

• Finland
30 Jul 08
where on earth do you have the room for so many aquaria!!?? I have that 92 liters and that was as big as it would reasonable fit into my livingroom without interfering with daily life and other furniture. I was thinking of growing bristlenoses. or at least see if I can get a couple to mate etc.

• United States
31 Jul 08
I am living in a house and I "make " room for the tanks. This is a three bedroom house and one room is my crafts room plus I have 4 aquariums in there ( with more to come) and the rest are in the living room. I would love to set up a large fish room for breeding fishes but I will have to settle for building a room in the garage when I can afford it. I am planning on having up to 100 aquariums in there.

• United States
27 Jul 08
I think you have a very good start with your new fishes. I have recently started one of my tanks back up after about 5 years of not having one. I am exited as well ! I've wanted to put them back up for a few years now, and we were at a local carnival when one of my daughters won three goldfish. That got me started up again, as I knew the goldfish wouldn't last if not in an established aquairum. The three goldfish are huge now, and I have added new fishies to the tank too. I plan to bring in my 37 gallon tank in and get it started so that I can separate the goldfish from the tropicals. They can coexist but I don't want the goldfish to start eating my other ones. So far, besides the goldfish, we have three headlight/tail light tetras, two clown loaches, one gold angel and a tri colored shark. We also have a 'placo' sucker fish that the kids have named 'Sticker' because he sticks to things with his mouth. I am really happy to see that other peole enjoy having fish tanks as well. Good luck with your fishies !

• United States
29 Jul 08
The 37 gallon tank is not large enough for the goldfish never mind the tropical fish. The goldfish should be in at least 100 gallon of water or preferably a pond. The pleco if it is a regular pleco should be in at least a 75 gallon tank, they get large and are messy. Plus goldfish should have water temp lower than 72 where as the tropical fish should have temp higher than 75. The goldfish are messy fish and produce plenty of ammonia which is dangerous to fish especially tropical fishes. Common goldfish can get to be over 18 inches long and live to be over 30 years in good conditions. Less than good conditions will shorten their life times.

• Finland
30 Jul 08
gosh! you are an aquarium expert! cool. oskarbotoni I mean. he is right. Regular gold fishes will become very big. But i remember the ones that I won from the fair. they never grew larger then 6 cm. i dont know... different kind of goldfish breed I think. no bulgy eyes either. looked more like a carp. anyway. goldfish = big and cold water the Pleco, unless its a bristlenose will also grow HUGE. good luck with the new aquarium!

• United States
27 Jul 08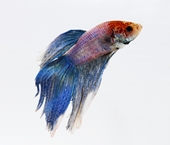 Hi,

Congratulations on your new aquarium! We used to have alot of aquariums. My husband still has a 60 gallon with one oscar in it. I used to have 3 20 gallon tanks split down the middle with siamese fighter fish in them. (beta) They were so pretty! I just to be such work to change the water and filters and clean them all the time that we got out of it. I hope you enjoy your aquarium as much as we did.

Happy MyLotting, Char


• Finland
30 Jul 08
thanks! I am enjoying it. I alrady have an aquarium in the office so this is the second. never knew you could get hooked on fishes really. my cats love it too.

• Philippines
27 Jul 08
Hey, I also like to have one. I just wonder how often do you clean the aquarium? I'm just afraid I won't be having enough time to clean that and care for the fish.

• United States
29 Jul 08
It is not hard to maintain an aquarium. There are a few things that will help you to succeed in this new hobby. One is get the largest tank that yo can(the larger tanks are easier to take care of, plus you can put more fish in them). So not put too many fish in the tank at once, the tank has to cycle (that means that bacteria has to grow so as to take care of the ammonia and nitrite that is being put into the water. Do not over feed the fish, only feed what the fish will eat in one or two minutes a day and do not be afraid to go a day or two a week without feeding them (no one goes around in the wild to feed them). Do regular water changes (the only way to "flush the toilet" is to do a water change and vac the grave at the same time, do not change more than 25 to 30% once a week. Make sure that the fish are compatible and will not out grow the tank. I tell people to find out how large a fish will get and multiple the length times the height (do not include the fins) and this (in inches ) will give you the number of gallons of water that the fishes need.

• Uganda
26 Jul 08
An Aquarium is a wonderful spectacle, I like the life forms that live in there, it makes man's attempt to mimmick God very spectacular. Congs for your brand new aqarium

• Finland
26 Jul 08
thanks! I agree I spend a lot of time staring at my fishes.


• United States
9 Aug 08
It has been two weeks since you posted this discussion. How are things going with your aquarium. It sounds like it is a nice one. Do you have different little things for the fish to swim in and out of. It would be nice to see a picture of it. I like to watch fish in a aquarium. It is so relaxing. I don't have one in my house but I have a place on the computer where I can watch them there. Not the same thing of course but I get the same relaxing from it.