what is a pet ....

Belgium
July 28, 2008 5:44am CST
there are several possibilities to give the name " PET " what kinda pets do you all have mylotters , describe and tell it what kinda pet you all ahve :-)....
5 responses

• United States
6 Aug 08
My pets are my family. They are animals, but they are basically just as much my family as my parents and sybs. I love them to bits. :O) Between my roomie and I, we have a HOUSEFUL! We have... 3 sugar gliders 2 little dogs (one Pomeranian-mix, one Poodle mix) a turtle (a Red Ear Slider) a tortoise (a Russian) 2 parrots (one Senegal, one Red Belly) a gerbil 10 hermit crabs a canary a finch a parakeet a little froglet (will be a Leopard Frog) some Platies a Betta and even a Nigerian pygmy goat kid! We also do rescues, and so often have fosters and strays we are rehabbing.

• Belgium
6 Aug 08
:D owkey :D when the zoo opens hihi wow your having alotta animals isn't it :-)from goats to frogs from a poodle to a sughar glider ( whatever this may be :p ) i hope you would or are taking care as is they are yourf amily :-) , then it means your taking good care of them :-) thx for the zoologic comment hu yours chrisje

• Netherlands
25 Dec 08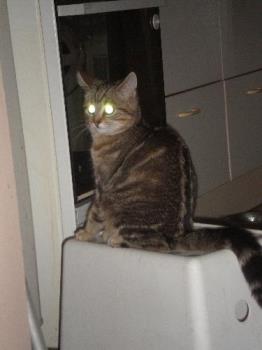 I have a bunch of pets, especially cats I adore. I currently own 6 cats. The picture I added is my kitten, Bollie (that means chubby in Dutch, but you allready know that

, but I thought it would be nice to add for our non dutch speaking mylot friends

). He is a very lovely pet indeed, he follows me around the house, loves to cuddle and is just completely loveable in every way. Unfortunatly he is allmost completely blind which is sometimes hard for him. He does manage to get himself around the house pretty good and he seems happy and is healthy otherwise, but he is visually challanged. I wouldn't want to miss him for the world though, and I make sure my room is Bollie-proof, and my parents do their best to make the rest of the house as safe as possible too. We all love him dearly

.

• Philippines
25 Dec 08
I have a dog and it's so friendly. My dog doesn't bark on strangers.

• United States
28 Jul 08
A pet is a companion something that brings us much love and joy.. I have a cat that lives in the house with me his name is Rags!!He is a very beautiful long haired gray and white cat, very loving and sweet.He never goes outdoors unless he is on his leash!! I also have a dog outdoors he is cujo.He is a chow