Are these ads for real?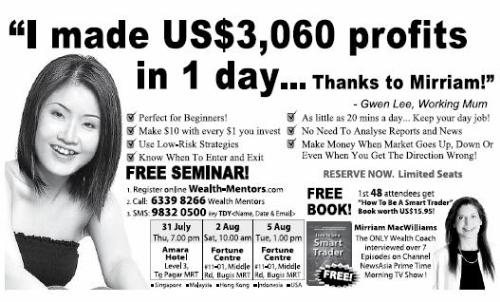 Singapore
July 30, 2008 3:53am CST
We have seen so many ads in the papers advertising now easy it is to make money by dealing with some sort of trading activities. It always got me wondering, are these ads for real? Is it really that easy to make money? Some of these ads feature people who actually made it to the papers. Being interviewed by financial reporters who writes for reputable media like straits Times. Is it really possible to start with a small capital like,say, $1000, and grow it to a few thousand dollars? Have any of you ever attended any of these seminars? Have you ever tried to get into the programs introduced in those seminars? Did you actually make money from it?
2 responses


• Singapore
31 Jul 08
To be honest, I do not know for sure what kind of trading they are referring to. I keep seeing these adverts in the papers proclaiming that they can make a few thousands within minutes. And they promises you that you will be able to do so too. And be able to quit your day job while you are at it. I am not really sure, that is why I am asking here. You ever did any trading yourself? Is it really that easy to get into it?

• Singapore
30 Jul 08
i have seen them too and sometimes i do try to read in details. i really wonder what exactly are these seminars. the only thing i know is i will never attend any one of them. i don't believe in easy money. i also think that if the speakers are that good, they'd be busy trading instead of holding seminars. it is possible to start with a small capital and grow it to a few times. however it takes a combination of correct timing, correct place and correct person. we chinese call it tian shi, di li, ren he. if you have all three, you won't need to attend any seminar. if not, it'll come to naught anyway. we have not seen a sudden increase in millionaires have we?