Do you consider your pet a member of your family?

Philippines
9 responses

• United States
14 Aug 08
Absolutely, my pet is my fourth child. She is my best friend, and I talk to her like she's a person. That dog has let me cry so many tears on her shoulders, kept me company during hubby's long deployments, and knows tons of my secrets! (Thank goodness she can't talk!)

• United States
7 Aug 08
Each and every one of our four cats is a member of my family. I adore them all; each one has her/his own personality. That's why I am taking Peaches to have her teeth cleaned for a couple of hundred dollars. She's family. Josie tells me when to feed her, when to get up and when to go to bed. My little furry alarm clock. I don't think I could function without her. Paisley adds humor and has something to say about everything -- Raa, is what she says. Arthur is practicing for male model. His sweet blue-eyed white face is soooo cute.

• Australia
7 Aug 08
we sure do our dog and bird are a big part of our family.. my dog is like a human, he is such a sweet dog.. my bird well his the naughty one lol he never shuts up and talks all day lol he tells my poor dog of all the time its great to see this.. i love them both

hugssssssss

• United States
7 Aug 08
I do consider my pets part of the family there like my kids in some ways.lol

• United States
7 Aug 08
Yes i consider my dog teddy bear to be part of the family.. My dog teddybear is my baby he follows me everwhere go.. He even knows what some words are.. Like he know what outside is and he aslo know what walk and food are.. He is a very smart dog.. Thats why i consider him a part of the family.. My dog has been there for me when no one else as. Hes had been there for me through hard time and good time and he has aslo experiences some of his own good times and bad times... My dog is a very special thing to me..

• United States
7 Aug 08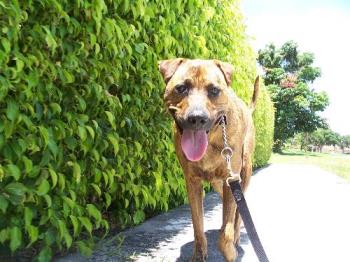 Yes of course! to me, my dog is my child. I love him so much. I tell my parents all the time "thats your grandson" as i don't plan on having real kids. He gets gifts on Christmas and his birthday and special dinners on those days as well just like a human would and He even acts so human sometimes too its pretty funny. Everyone in the family considers him a part of the family.(everyone that lives in the same house as me) and they all treats my dog, Saber like a member of the family because he is one!

He is 2 years old now and we've had him for a year and half I don't know what life without him would be like and everyone else feels that way too. He is always there to greet you at the door and hes always so happy and ready to give you loving!

Gotta love him.

• United States
7 Aug 08
yes my 2 dogs an 2 cats an even the rat an 2 mice are all treated like family my daughter carries the rat an mice around an gives them treats an the cats an dogs race to see who is going to share the bed at nite with us