Isaac Hayes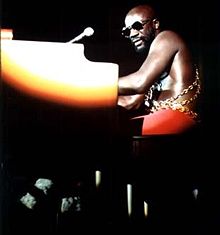 United States
August 11, 2008 1:11pm CST
I'm saying to myself right about now that we have to stop meeting like this. Coming so closely on the heels of the death of Bernie Mac, comedian and actor, you can imagine how shocked I was when my daughter informed me of the death of soul singer Isaac Hayes yesterday.

Isaac Hayes made so many inroads in the music business that he was inducted into the Hall of Fame, among other honors. He was a gifted songwriter as well as singer and even ventured into acting. He rose to fame during a time when I was young enough to really appreciate his music. Although he is probably most famous for his song "Theme From Shaft," from the '70s movie of the same name, my two personal favorites are "I Stand Accused" and "By the Time I Get to Phoenix." It goes without saying that the world has lost a great talent in Isaac Hayes. I grieve with his family and friends.
2 responses

• United States
11 Aug 08
Two great talents were lost this past weekend. I thought Bernie Mac was hysterical. I do remember the song "Shaft" and ofcourse Isaac Hayes. Don't believe I saw the movie but the song was big in the 70's. May they both rest in peace.

• United States
18 Aug 08
Its a devastating loss to the artistic community. Bernie Mac and Isaac Hayes represented something we see so little of today, talent. Today if you look good you good be a singer, dancer, actor, newscaster, etc. Talent is becoming a lost art. For people that like actors for their true talent or comedians for the gift of laughter, we feel your pain. The families and friends of these two men should feel blessed to have been in their presence. I must say that without these two very talented actors, writers, and comedians, television, films, print, and media will all suffer greatly. My prayers are with their families. dl