Men friends are better friends?

Philippines
August 13, 2008 1:05am CST
I have two female best friends but most of my close friends are male because I find them to be less prone to talk about you in your absence. You tend to be treated like a queen, be the first out of the door, first to be given food, first on the bus, etc. They nake you feel special. They are more candid and frank, telling you when you don't look good in your dress, etc. What do you think of male friends?
4 responses


• United States
13 Aug 08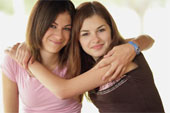 Hi, I have a few female best friends too. I have one very best friend that is male that I've known for over 30 years.

I used to be engaged to him 30 years ago and broke off the engagement because I didn't feel like I was mature enough or ready to get married. We've remained very good friends over the years. I can talk to him about just about anything and he'll give me his honest opinion. No wishywashy talk from him. lol I think that why I like him so much. You have to be careful with male friends though when you are female. Things can go from best friends to something much more in a very short time. It's probably because best friends tend to talk about alot of things, sometimes personal things and you can get very close. [i]Happy MyLotting, Char[/i]


• Philippines
13 Aug 08
It could had been better if I was one of them. You won't just be special but very special. If your friends always make you first to the door, I'll be different. hehe.. I'll be carrying you.. Haha... LOL..

• Philippines
13 Aug 08
I have a male best friend before during high school days. He is very sweet and caring just like a dear brother to me.