Ghost Castle!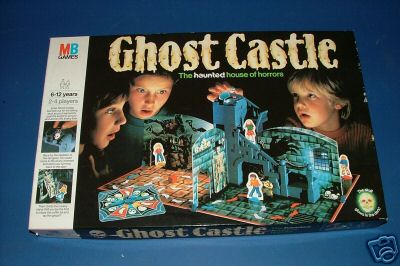 August 18, 2008 5:59am CST
Do you remember this game from your childhood? It used to be my favourite! However, getting people willing to play with me was difficult! It was such a hassle to put the complicated board together. It was definitely fiddly, but worth it! Then you'd try and get past all the booby traps and resent each other when someone would drop the skull and one of the traps would get you! It was a fantastic game that I was incredibly pleased to discover is still available! I re-bought it in a toy store and it's still a hassle to put together which puts people off playing with me! Did/does anyone else play it?
2 responses

•
19 Oct 08
I remember it. I used to take it to school on the last day before xmas (fun day) and it was always very popular. I remember mouse trap and buckaroo from the same era too.

•
26 Oct 08
I never played Buckaroo. I still think of these types of games fondly though, and wouldn't mind playing them again!


•
18 Aug 08
I forgot about that one! That was another fantastic game. The trouble with young kids and games like that though, is that things tend to get broken! My mother was constantly trying to repair the damage to our broken favourite games! I may see about getting Mouse Trap again. It was such a great game that I'm sure it must still be available.