A cute new movie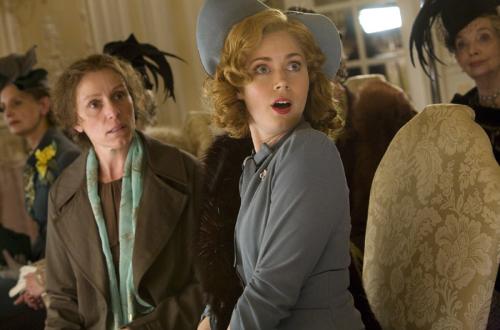 United States
August 19, 2008 7:34pm CST
I watched Miss Pettigrew Lives for a Day this weekend and thought it was just so cute. Frances McDormand as a down and out household helper who "steals" a job and gets a makeover and then has an amazing day in her new role. Amy Adams as a lounge singer/ actress with too many boyfriends who benefits from Miss Pettigrew's "expertise" is great. It is set in WWII time in England. The sets are visually interesting and the plot is engaging. I really liked it and give it a hearty two thumbs up. Have any of you seen it? What did you think?
3 responses

• United States
20 Aug 08
I haven't seen it yet, but I saw the promos and it looks like it'd be pretty good! I'm glad to hear you gave it a thumbs up. I'd much rather go by a friends review of a movie than to read the picks and pans in the paper's movie reviews.

• United States
20 Aug 08
It did start a bit slow and I almost gave up, but I am so glad I hung in there. I loved her makeover too. Frances McDormand is such a wonderful actress. I can't believe that she is the same woman from Fargo. Amy Adams is just such a cutie and she can sing like a nightingale. When I watched her in Enchanted, I thought she was using a fake voice, but it continues to be the same voice here. I hope you like it.

• Philippines
6 Dec 08
i just saw it last night courtesy of a cousin's dvd. i was very curious of how the story goes but Miss Pettigrew has a lot of wise quotes that it made jot down all of it and even watched the movie. i have never seen a movie so truthful. it touched my heart really and all i can say is that i greatly admire the writer. he/she must have a lot of experience to write such kind of story.

• Philippines
12 Apr 09
thanks for the best response. yipee!!! =)

• United States
20 Aug 08
I have not seen it although I remember when it first came into theaters. Amy Adams got a lot of recognition when she was in Enchanted, but it didn't translate to Miss Pettigrew Lives for a Day (at least according to box office records). I hope the DVD sales make it earn a little more. I hope she has a long and successful career.