What do you know about GENPETS?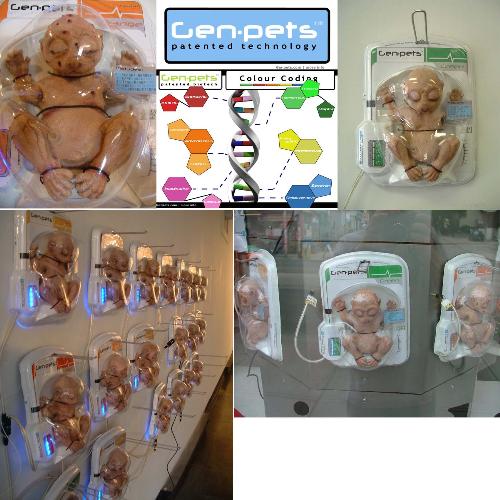 Iraq
August 21, 2008 6:14pm CST
Yes that is right what you read above, I have read this on their site, it is a company called (Bio.Genica), they have manufactured something strange like a pet doll, it can eat and talk to you as a pet, I will put some of what the company saying about their production bellow: ([b]Say Hello to the all New Genpets from Bio.Genica The Genpets are Pre-Packaged, Bioengineered pets implemented today. That's right, Genpets are not toys or robots. They are living, breathing genetic animals. We use a process called "Zygote Micro Injection" which is quickly becoming a favourable method to combine DNA, or to insert certain proteins from different species. Most notably it was used in 1997 to splice mice with bioluminescent jellyfish and has since been used to create glowing rabbits, pigs, fish, and monkeys. Since then, human DNA has been injected into rabbits, chimpanzees, spider DNA into sheep, and now, Genpets have arrived. Read National Geographic's site for more information on human animal hybrids. We've gone one step further by packaging the Genpets into plastic packages unlike any other. Each Genpet package has a fully functional heart rate monitor and Fresh Strip to better gauge the state of each pet while it lies in its hibernation state.The Genpets come in 2 base configurations, a 1-year model, and 3-year model.[/b]) Well, I don't know if it is right to do that or not, and where are we going with this Bioengineered technology. What do you think about this new technology? What if they will could produce some human pets? what will happen then? Are we need such kind of things? and is it right to give it to our kids to play with without knowing what will happen to our kids when there pits die?I know that I asked a lot of questions, but I want to know what other people say about that, and you can read all about this in their site www.genpets.com. Have a nice day for all.

4 responses

• United States
22 Aug 08
That is very interesting my friend,and I have honestly never heard anything about Genpets but they sound like they could be a blessing and a curse,I do not know if messing with stuff like that is right,and I believe in the end it could end up doing more harm then good,its like mutating a spider and then expecting it not to try and bite you,but thank you for sharing this with us,and I look forward to responding to you more in the future.

• United States
23 Aug 08
Thank you for sharing that with me,I thought it sounded odd but I would have never guessed it was actually a hoax,but I am kind of relieved,have a great day,good luck in your life,and Happy Posting.

• United States
21 Aug 08
I don't really know about Genpets, but it doesnt sound like something that we should be messing with. What is wrong with the pets that we have? This world has just gone mad with that stuff they are trying to engineer with technology.

• Iraq
21 Aug 08
Yes, you are tight about that, and I just don't get what will technology lead us to. Thank you for your response and have a good day.



•
22 Aug 08
Hi, alkurishy, Thank you for all that infomation, mine, you have been busy. Take care, Tamara