Radiation in vegetables!!!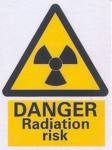 United States
August 22, 2008 4:11am CST
The FDA has now approved zapping lettuce and spinach with radiation supposively to kill germs. I am so outraged and scared!

Radiation
!! I mean seriously! What's next! it is a widely known fact that radiation is bad for you and now we are going to put it in our food!!? I can't believe this. Our food already has growth hormones and pesticide do we really need this too? I guess I should start growing my own damn food. What do you guys think about this? Do you think it is a good thing or are you skeptical too?
1 response

•
22 Aug 08
Well, I've not heard anything about this but my initial response is to not be too concerned. Radiation can be very bad for you, but there are lots of different kinds of radiation. Microwaves use a form of radiation to heat food, so presumably not all radiation is harmful. Given the days we live in, I would not have thought the FDA would OK a move like this unless all the evidence they have points to it being safe. If this is potentially harmful they would face countless law suits, so I'm sure they would have checked it out.

• Garden Grove, California
3 Jun 16
I do ot bel;ieve that radiation woupld last in food at at asll saj y more thasm food from the microwave has any radiation in it so do not get upset for nothing o