malnourished choco labrador pup

Philippines
August 25, 2008 6:39am CST
i have adopted a choco labrador pup, around 2 months old from my boyfriend's brother. i pity the puppy since its very small and very thin.. i picked it up and placed it inside a box and brought it home..i named him "BOGART" hehe i want to nourish it so it will not die and be healthy.. what kind of milk should i give my pup? what kind of food can it already take in? pls give suggestions so my pup would live..thanks
3 responses

• United States
25 Aug 08
There is a puppy replacement milk sold at most of the big pet stores. Do not give him regular milk as it will upset his stomach. At 2 months old it should be able to eat puppy chow softened with warm water. You will need to give him just a small amount of food, maybe 1/2 cup or less to begin with, about 4 times a day. Add the warm water too it and let it sit until it is completely softened. He should do fine, you might want to get him into a vet as soon as you can, to have him checked out and get any shots he may need.

• India
12 Nov 09
I like choco labrador very much and they are very cute to see.I usually watch in TV different types and i love it very much.Everyday i will take care about my puppies and since it is very cute and small.I like all types of pups and malnourished choco labrador pup looks very cute,funny and pretty looking.

• Philippines
12 Dec 08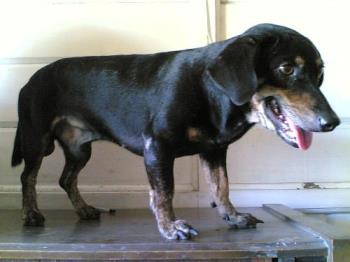 My Moochie's malnourished too back when he was still a baby. I'm sure the previous owner didn't take care of him because he's got this temporary bald spot near his butt. When i got him finally after lots of negotiations, He's grown up stubborn, with thick hair and became the macho Dachshund.