How to loose weight and keep it off

United States
August 25, 2008 10:19am CST
I am about 40 to 50lbs overweight, which is really difficult for me to admit to myself. I am having difficulty loosing the weight and keeping it off. I have tried quite a number of things; however, I have never been able to successfully keep the weight off. I am now trying to improve my diet in ways which it counts, however the weight lost has been a bit tougher this time around. Does anyone you have any tips or advice about how to loose weight and keep it off?
4 responses

• United States
25 Aug 08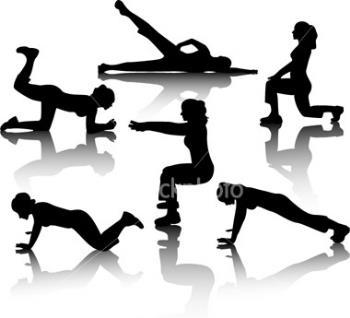 A diet alone will never work and i think thats why so many people find it hard to lose weight is because they think oh i'll just eat less food and i'll weight and why that might help you to lose some weight... it won't really help you in the long run. You need regular exercise and best tip i have is to walk. Walking is sure a great exercise and easy to do! it also helps with stress and keeps your heart healthy Walking is the easiest for me and its so easy to stick with too! I work out a lot... i walk every day but i also do other things through out the week but sometimes i find it VERY hard to do other exercises. i just feel too lazy or tired or simply just don't wanna do it and sometimes i won't do it but when that happens... i always just go for another walk. heehe i don't know what it is but when it comes to walking, i can always do it. its my time alone and to think and its nice. Thats probably why i find it so easy to do... but if you can get into it, it'll help you lose weight and keep it off for good! try and find something you can enjoy, like walking and then stick with it, make it a habit. I lost a lot of weight by changing my diet but i eat more now then i used too! i eat 3 times a day and snack instead of just eating once a day like i used too. also eat a lot of fruit try and have at lest once piece a day. I like to eat mine with lunch or eat it for lunch a lot. Apples and bananas are my favorite and help keep you full. eat a lot of little meals instead of fewer bigger meals. drink lots of water and get enough sleep and don't eat right before bed.

• United States
26 Aug 08
I think the problem for me is that I have a lot of bad habits. I would have to work really hard to get where you are. I tend to want to jump into the car and drive everywhere, even to the park; although it's a 3 minute walk away! I also smoke, drink coffee 2 to 3 times a day, drink pop and the list goes on. I just don't know how to stop most of that and I know I am not ready to; (I know that it will take a little bit of will power). I am now trying to eat healthy, however every time I am out I have to stop at a fast food restaurant and purchase my favorite burger or combo. I think you have a really great lifestyle, and you seem to have gotten everything down to a science. However, it would probably take me a year to achieve half of what you've achieved. Nonetheless, I am going to stay positive and keep working at it. Thanks, that was great advice.

• United States
26 Aug 08
Everyone is different... It took me about 8 months to lose my weight. I've made a lifestyle change and that can't be done over night for most. I somehow got lucky i guess or maybe its just the way i did it? Because I actually didn't start off dieting or anything like that... I wasn't trying to lose weight because i had so many times in the past and failed. But I started walking my dog a lot more because HE was getting fat and i want him to be healthy so i knew i had to walk him more but i ended up losing weight myself and so then i started eating better and lost even more weight and then i started doing other exercises and now am where i am now..Skinny!.. (it is very weird for me to say that lol) I've been big since i was like 9 and I'm 20 years old now. Thats 11 years of my life of being fat. So don't worry.. I've been on as you could say the "same-road" :P but i've been/was in your shoes at one time. I drink coffee in the morning but I use sweet & low. you get used to the taste after a while lol but i also mix in real sugar and sometimes i use just all real sugar. So it's not like you have to give that stuff "up" just cut back on the sugar some how and that will help. You are on a good start and staying positive is the best thing! and remember, you can't do it all at once. Just take baby steps and get support from family or a friend if you can. They say having support works better... They have a lot of online forums and stuff you could join too. Oh and really try and stay away from the fast food or at least don't eat it often, ya know? if you have it more then 4-5 times a week that is too much. try only having it maybe 1-2 times tops Try making it yourself instead... It taste SO much better and its healthier! anyway, Good luck! and i wish the best to you.

• United States
25 Aug 08
Well first I wouldn't call it a diet. I would call it a change of lifestyle because you need to change the way you eat if you want to lose weight and keep it of. Now you don't really have to stop eating everything that you like but just remember to eat in small portions. That will help you keep it of. If you teach yourself how to eat right. And you also need to excercise at least one hour every day, or every other day. You could start off slowly at first and then every day you could increase the time that you are excercising. I hope that these tips help you out.

• United States
26 Aug 08
Thanks for the tip. You are right, I do need to look at it as a lifestyle change and not as a diet. That is why I am making small changes instead of what I use to do, which is make dramatic changes within a matter of a week once I have decided that I am going to diet. Now I know that I was not being realistic, however I am serious this time around and I am ready to make time to work out, I need to stay motivated and so that I can integrate it into my daily life. That was really good advice. I know that's also something I need to work on.

• India
25 Aug 08
All i could suggest you is to control your diet.In addition to this please consider doing regular exercise.I would suggest you to do aerobics and some weight training. The best aerobic exercise is swimmimg.Go for swimmimg at least for half an hour per day.I bet you will be losing your weight on an ongoing process. Gud luck with it.

• United States
26 Aug 08
Thank you Subeesh. I have not been swimming in years (5 years to be exact), however it was one of my most favorite hobbies. Moreover, I was my fittest when I was active, and a huge part of that activity was swimming. That was a great suggestion; I just need to make time for it. I think we live in a world where our mind immediately turns toward quick results, we don't want to have to work as hard to get the same results. I think that is where I am at right now. I will definitely try to make time for that again, because I do like to swim. Thanks for the advice.

• United States
2 Dec 08
I don't know what you've tried losing weight, but I lost weight by going back to work. After my son was born, I ended up having to find a new job. Well, the job I ended up getting required a lot of walking and climbing stairs. I delivered pizzas. My eating habits really didn't change any that I was aware of. In fact, I thought I was eating a little bit more, but since my other jobs I didn't move around much, I guess that makes a whole lot off difference. I've been back to work almost a year, and I've lost almost 30 pounds. So if you could a little bit of exercise, even if it's only a half hour or so a day, that could make all the difference.