Have you had Koala's March Cookies?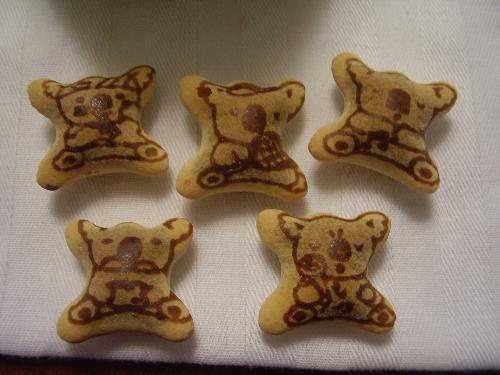 United States
August 25, 2008 4:39pm CST
I saw these at Wal-mart today by the Pocky and couldn't resist getting them for my son. They are a chocolate filled cookie that has Koala bear pictures on them. I figured there is no way that they would look like the box, but heck for $1, why not treat my son. We open the box, and the are adorable! On top of that they taste good too - not too sweet at all.
3 responses


• United States
26 Aug 08
I haven't been to walmart in awhile but I always check the Asian food section out. They also had some rice candies I had never seen before.

• United States
26 Aug 08
Yes I have tried these before. I too got them at wal-mart. I packaging caught my eye and I also like Japanese candy and cookies. So i got a box and loved them just as much as I love pocky.

• United States
26 Aug 08
I like the Koala cookies a bit better. Well, I take that back, I like them better than the plain Chocolate or Strawberry Pocky. I picked up some Chocolate & Almond pieces Pocky for my hubby today at the store and those are awesome. Have you ever tried other types of Pocky? When we were in Disney last year we visited the Japan section in Disney and they had about 75 different types of pocky, but I know there are more types.

• United States
26 Aug 08
I have only had the chocolate and the strawberry kind. I really like the Chocolate kind though. I need to go to my local asian market so I can try some other flavors.

• United States
25 Aug 08
I have never heard of these, but I have not been in the mood to check the Cookie aisle lately when I go to WalMart. But now you are making me want to try some. If they are that good, and not so Sweet, maybe I should consider trying some. I always like trying new treats from time to time.

• United States
25 Aug 08
These aren't on the cookie aisle. They are with the Japanese/Chinese food. By the Japaense food there is always stuff called Pocky about half way down the shelves (it is a cookie too, looks like shortbread sticks covered in strawberry or chocolate - there is something like 500 varieties of the stuff); these cookies are right by the Pocky.