Mental Typewriter..Have u seen this?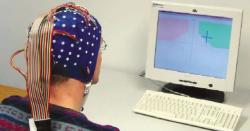 India
August 29, 2008 9:29pm CST
Researchers in the fraunhofer institute of Berlin and Charite in germany has invented a mental computer.. the machine makes it possible to type messages by controlling the movement of the cursor. A user must wear a cap containing electrodes that measure electrical activity inside the brain known as EEG and imagine moving their hand left or right in order to move the cursor.. i have attached a photo of the equipment have a look at it..
4 responses




• United States
30 Aug 08
Now THAT is cool! It's like voice recognition, but instead of saying all the commands, you just think it! Now what if they implemented this into the internet? You would think, "Hmmm... I need to check my email..." and it would take it to your email! "I'm bored", and it would take you to a Flash Games site.