Does your hummingbird feeder drip all day?

United States
September 2, 2008 8:17am CST
I purchased a hummingbird feeder about a month ago. It's clear glass with some pink running through it. I mixed up the solution 1 part sugar, 4 parts water and have hung it next to a basket of hot pink petunias. So far I have see one hummingbird, and a swarm of wasps feeding from it. I'm not sure it's worth the headaches of refilling it every week, just to have sugar water dripping on the railing around my front porch continuously. So, is it normal to have the feeder dripping all day and potentially attracting more pests like wasps and ants to only see one hummingbird?
2 responses

• United States
2 Sep 08
No, they shouldn't leak. I've got two cheap ones right here outside my window and have never had either one of them leak. The will still attract other bugs, though. One of mine always ends up with the big black ants swimming right in the sugar mixture, making a big black mess. I change them every couple of days, so it's not too bad. Even if they don't drip, you'll still have wasps and ants, but no, it shouldn't drip.

• United States
4 Sep 08
Ldy, Maybe it's because I purchased a small, expensive one. Thanks for the note!

• United States
4 Sep 08
I told my s/o about this discussion, funny thing is, he said 'ask her if it was a small expensive one from the pet store' LOL When he bought the little one I told him what he paid for it was crazy, he could have bought a larger one for a lot less. lol

• United States
2 Sep 08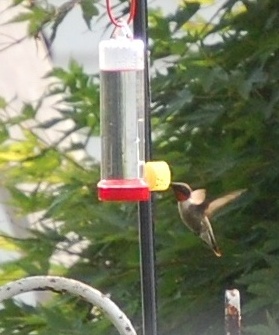 My s/o bought me a small hummingbird feeder (holds like 1/2 cup) and it leaks constantly. I finally just took it down, like you I was tired of it dripping on the railing on my back porch. I bought a larger one, which I have hanging out in my flower garden and have not had a problem with it leaking. As soon as my s/o saw a hummingbird he went and bought me a feeder. lol and plants that would attract them. Still we have only seen the one, maybe two hummingbirds.

• United States
4 Sep 08
I've got some rod iron hanging basket holders I'm going to try to hang it on and I'm going to try to seal better around the rubber stopper. It has got to be getting some air into it for it to leak as much a it does. Thanks for your help!