Are you time conscious??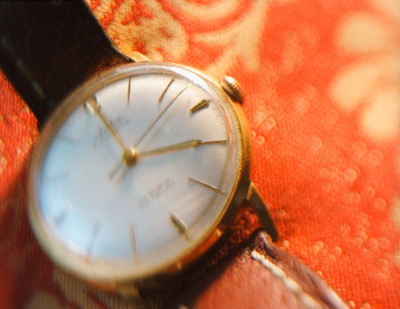 Philippines
September 8, 2008 9:06am CST
I am not so sure if everybody here is like me. One thing i cannot live without or cant live without having is a watch. I am so time conscious that i don't want anyone waiting for me, my reason is better early and wait than late in my appointment. With this reason watch is a very important part of my accessory everyday. My life is in complete without it. How about you do you feel the same?
4 responses

• India
8 Sep 08
Same is here Rana.I too can't go out without my watch.I am very much time conscious and use to do everything in time.Mobiles can't replace watches;have to bring out them from pocket to see the time!! !!CHEERS!!

• Philippines
8 Sep 08
yeah me too i don't use my cellphones or another to be my time guide only my wathc will do the trick haha

• United States
8 Sep 08
yeah I am. I can not stand to be late. I don't like it when others waste my time by being late either...

• France
9 Sep 08
Yeah I'm like you for it for the simple reason that I hate someone making me wait, It's a clear mark of disrespect to me

• Kuwait
8 Sep 08
Yes, I am also time conscious especially when I am outside of the house for I do not want to be late to be home so that I could see my Lovely daughter in a quick time and when I will be with my appointment as well just important for me not to be late with my appointment either it is personal or business because it really matter in time if you are time effiecient then you could save a tons of gold in it.