cats

Canada
10 responses

• India
11 Nov 06
dont like cats that much .. i prefer dog

• Canada
11 Nov 06
In my neighborhood i do deliveries and i have cat treats. Each cat now looks for me and will come running to meet me.How cool is that.


• Canada
11 Nov 06
Pets are like children need care and attention for a lot of years. Is this why you don't have pets?


• Canada
11 Nov 06
I have a cat that when he was young he fell thru a hole and was under the house. I recued him butI don't know how long he was lost. And he has been scareddy ever since.

• United States
6 Nov 06
i used to have cats, but now I have 2 dogs

• United States
6 Nov 06
Cats are great. My wife and I have four. We have noticed that each of them, in addition to being quite smart, has their own distinct personality. The cat with me in my photo is very selfish. She is also a piggo when it comes to food. But, we love her anyway.

• Canada
11 Nov 06
This is great you share your home with 4. You are right, they each are their own self. My cats actually think they are talking to me. I think I understand them too .hehe...

• Australia
6 Nov 06
I think my cat is very clever, he doesn't use kitty litter at night he jumps up on my side table and just taps on my pillow...it means he wants to go out...how cool is that....

• Janesville, Wisconsin
12 Dec 06
I love my cats, some of them are smart enough to do things on command and do tricks, and to even get into the house or open doors... I have 16 cats and kittens with the family. I love all of my babies, and although they are feral and do not like to be held much they sure show their love cuddling my ankles :), or leaping on my from time to time with a surprised link to my face or pat at my hair. - DNatuerofDTrain

• United States
11 Nov 06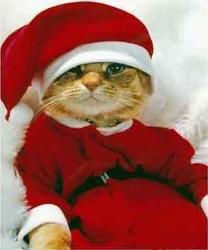 I am a very big cat lover. I own 3 of them, one now has 5 kittens. I love kittens, they are so cute. I think my cats are very smart. They all know there names and come when I call them. Cats are also so independent which makes them so cool.I know my cats love me too.