What kind of gifts do you want to receive??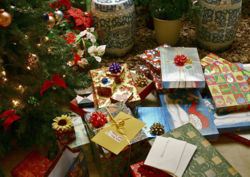 Philippines
September 16, 2008 1:06am CST
In our birthdays and during Christmas days we often received gifts or presents from our loved ones.. They usually gave us the things what they think we love to have.. I often received shoes and caps because they always seen me wearing caps and rubber shoes.. What gifts or presents you usually received?? What is the most memorable gift that you received?? Do you still have it until now...
5 responses

• Malaysia
20 Sep 08
stationery, souvenior, clothes, necklace, cake, cards... I really like to receive gifts, because it show that someone care and thinking of me... however, its oso difficult to choose a suitable gift for our love ones. it depend on how much we know and care about them. I usually give something which myself think is cute and beautiful to my friends. Not sure whether they will like it or not. Being more special, i will just give them my handmade gift.

• United States
18 Sep 08
keep the gifts...just send me the money you would have spent on it instead. I am always running short of cash. LOL If someone insisted on getting a gift of some sort, though, flashlights are always a good choice for me. I can never seem to have enough flashlights. An assortment of batteries for the lights I already have would be a good gift idea for me too. Another good idea would be one of those 100-foot coils of 3/8" rope that are about $11 at Lowe's. I can always use those ropes for one thing or another...

• Philippines
16 Sep 08
Hi there warrior_777! I often receive cash as a gift for my birthday and even during Christmas. There are people who would give me clothes, bags, shoes, and of course, books. I appreciate all the different types of gifts they give me. Of course, cash is the most practical gift one can get as the recipient can buy what he or she really wants or needs. The most memorable gift I received was an Asian tour given to me by my parents as a birthday gift a couple of years back.

• Philippines
16 Sep 08
Hello.. My co-mylotters, I received cash more often.. Because they said that they give me money to let me buy the things that I wanted to have.. They also said that if they will gave me a gift that I don't like or I don't needed their money got wasted...

• Bangalore, India
16 Sep 08
I usually get dresses and some show pieces or sometimes Kitchen wares. Most memorable gift was my nokia handset from my husband soon after our engagement. He gave it three yrs back though its not working now because it got drenched in rain I still keep it safely for the memory of those days.