Have you tried?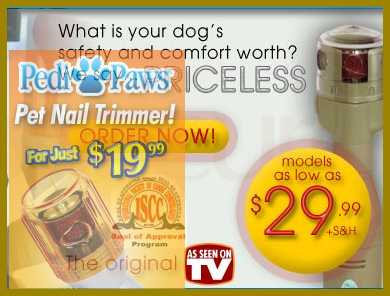 Canada
September 16, 2008 10:01pm CST
Tazz doesn't mind nail cutting sessions, but is nails are hard and we are often afraid of cutting too much, ending up cutting too little. I have been watching tv and saw that peticure thing. THen I searched the net and found something else called pedipaws. They both seem to be more or less the same product. If it works it would certainly make our job easier but I would like to hear from myLotters first. Do you have any of those products? If you do, are you happy with it? Which one do you have or which one do you think it's better? Thanks for any information on how good - or bad - these products are
6 responses


• United States
18 Sep 08
My mom suggested I buy that Peticure thing, but I noticed from the commercial, I would still have to hold my dog still to be able to do his nails. I have seen them in Walgreens, and have been tempted to try them. However for now I'll just continue doing it myself. My vet charges eight dollars to trim them, but I've gotten to where I can do it with minimum fuss from Sherlock. And I'd rather save the money. Plus, I've yet to cut too much off. Believe me, if I ever drew blood I'd make sure to never personally cut his nails again!


• United States
17 Sep 08
I think my dog would freak out if I came at him with something like this product. I clip his nails the old fashioned way. I am always afraid I may accidentally cut too much off and he will bleed, so I started wrapping him in a towel to keep him from wiggling around and that works really good. I have never cut too much of the nail doing it this way.

• United States
17 Sep 08
I didn't see this product before, but it looks like something I may want to buy for my animals. I always have nails problem with my dogs. I am probably going to buy it soon.

• India
17 Sep 08
I Have a dog nail cutter from a company called -Kennel.I find it extremely difficult to clip his nails.I keep asking my vet to do it and always I find he bleeds. His nails are growing and I really don't know how to cut it.He hates it,I guess because he bleeds every time we try clipping his nails.I would like to try this product if it is available here.I wish there was an easy method.

• Canada
19 Sep 08
I am really thinking about getting it, but was just hoping for some input from people that actually tried it. From what I read, petticure is a bit better than pedi paws because pedipaws apparently is a cheaper version, not as strong and with more chances to brake down.