Would Albert Einsten use a Mac or a PC?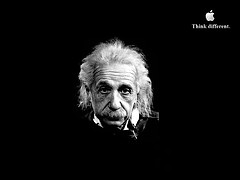 Indonesia
September 21, 2008 11:43am CST
i think If Einstein is a paper and pencil kinda guy, then he will choose PC

6 responses


• India
21 Sep 08
He would probably make a super computer of his own..But he would sure use a Mac..Because Windows OS is something that even he wouldn't understand.. No matter how many theories of relativity he proves, he cannot find the reason for the hanging of a PC. So he would save himself trouble and use a mac and make better atomic bombs.. bourne


•
21 Sep 08
I think he will first cross PC with Mac and then use the product..lol!


• United States
21 Sep 08
He would probably choose PCs or Linux. Knowing Einstein however, he would most certainly try them all before choosing. Good question.

• Philippines
21 Sep 08
Hmmmm... Einstein is such a complicated person but i think he would use something that would challenge him, if he is going to use the computer he may end up opening the whole computer and experiment on things that may improve the technology. :)